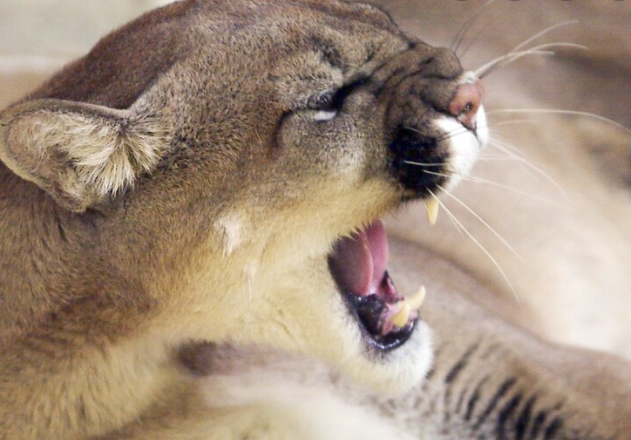 A woman in Northern California was assaulted by a mountain lion, and her dog sprang to her rescue and was gravely injured in the process.
On Tuesday, Erin Wilson remarked, "I will never be able to live up to how amazing and loyal she is to me."
Wilson, 24, is from Trinity County, which is located around four hours northwest of Sacramento. She took Eva, her 2 1/2-year-old Belgian Malinois, for an afternoon stroll along the Trinity River near unincorporated Big Bar on Monday.
Wilson was walking along a road with Eva a few yards ahead of her when a mountain lion leapt and swiped at her, clawing Wilson's left shoulder through her jacket, according to her.
The dog, which weighs 55 pounds, was overwhelmed by the cougar but fought back valiantly.
The cougar bit the dog's head and wouldn't let go, despite Wilson's attempts to strangle it and gouge its eyes with rocks, twigs, and her fists.
The cat scratched her with its back paws as it attempted to kick her off. Wilson claimed she dashed back to her pickup truck, grabbed a tire iron, and signaled a passing vehicle.
Sharon Houston, the driver, told the Bee that she grabbed a long piece of PVC pipe as well as pepper spray. The ladies banded together and began thrashing the lion who had pulled the dog off the track.
The animal eventually escaped when Houston blasted it with pepper spray, according to Houston.
Wilson had cuts, scrapes, and bruises that were not life-threatening.
Eva sustained two skull fractures, a perforated sinus cavity, and major damage to her left eye, according to Wilson's husband, Connor Kenny. On the way to the vet, the dog suffered seizures, but they went away overnight.
Wilson expressed her optimism that Eva will recover. She's set up a GoFundMe page to help with the vet fees, and she's already thinking about how she'll reward Eva: with new stuffed animals and a steak meal.