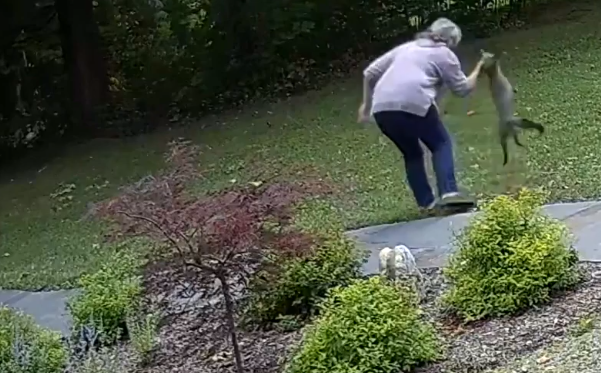 On July 25, a woman in New York successfully fended off an aggressive, rabid fox in her front yard while expressing her dread of being eaten alive.
A rabid fox attacked Sherri Russo, a retired nurse from Caroline, New York, who sustained 16 wounds as a result of the attack.
The 61-year-old claimed she mistakenly believed the fox to be her neighbors' dog.
"When I got the first nip on the outside of my leg, I actually thought it was our neighbor's dog. I lifted my leg and was getting ready to say 'hey, what are you doing?' and shoo him away, but I looked down, and I saw this grey fox," Russo stated.
Russo claimed that as the fox continued returning, she came to the conclusion that something horrible was about to occur. She repeatedly flung the fox to the ground, but video surveillance captures it returning back.
The rabid fox ultimately stopped attacking when her neighbor intervened and grabbed a wood to strike it with.
"Once the fox saw him get close to me, he just decided that he was just going to regroup and think of somebody else to go attack because that's when he took off. I just thank God that my neighbor turned up. I can't get over how kind it was for him to not look the other way or pretend he didn't hear anything. I'll be forever grateful for that."
Russo was given a rabies shot and medicines after the fox's rabies test came up positive.