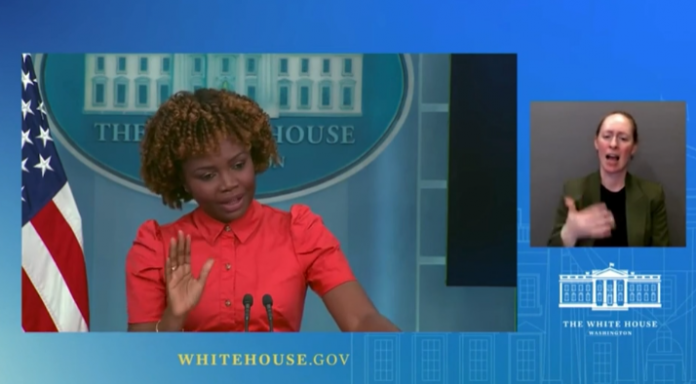 Karine Jean-Pierre, the White House press secretary, was unable to let it go.
At her usual briefing on Monday, the head of the Biden administration's press office criticized Saudi Crown Prince Mohammed bin Salman for his ludicrous ridicule of President Biden's mental acuity and many mistakes.
When Toluse Olorunnipa of the Washington Post questioned Jean-Pierre about a Wall Street Journal article detailing the insults hurled behind closed doors by the de facto Saudi leader, Jean-Pierre originally said that she has no thoughts on the statement.
Later, Jean-Pierre had a change of heart and said, "Actually, let me say something about your first question. I'm not going to comment about, you know, kind of ridiculous statements. I'm not going to comment on that.But I'll be very clear: the president has been very clear since the beginning of this administration that we have to review our relationship with Saudi Arabia. And so that is something that we're going to continue to review and once we have something to share, we will certainly share that."
The Journal story, which claimed sources within the Saudi government, didn't provide particular instances of MBS making fun of Biden, but it did state that the monarch likes former President Donald Trump and has a negative impression of the latter ever since he served as Barack Obama's vice president.
In an April comedy skit, Vice President Kamala Harris was depicted as needing to chastise Vice President Joe Biden frequently in order to keep him awake.
Tensions grew after Biden's July visit to the oil-rich kingdom ended with him leaving empty-handed, and Jean-criticism Pierre's of MBS exacerbates those tensions.