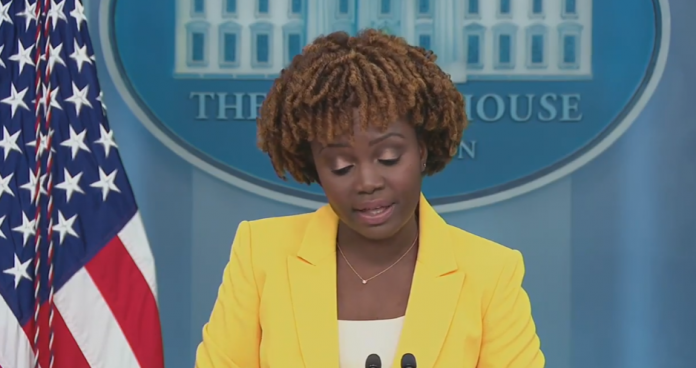 After learning that inflation increased by 8.3% in August, higher than expected on Tuesday, White House press secretary Karine Jean-Pierre attempted to defend the Inflation Reduction Act, but Twitter users were not sympathetic.
The Inflation Reduction Act was being hailed that afternoon by President Biden, and the Dow Jones Industrial Average was falling, so journalists were eager to interview Jean-Pierre. When repeatedly questioned on what, if any, impact the IRA would have on Americans who are currently having financial difficulty, the press secretary looked to stumble.
"Look, expert economists have said themselves that the Inflation Reduction Act would be beneficial to leave three hundred, the extra three hundred billion dollars in deficit. That is really important as we have right now $1.7 billion in deficit reduction under this administration. It would help lower that even more, which is incredibly important."
As food prices increased at a nearly record rate, social media users questioned Jean-justification Pierre's of the bill and its subsidies for green energy.
Economist Kenny Polcari said "CPI worse than expected, mkt down 1000 pts, and Joey and KJP (Karin [sic] Jean Pierre) are doing a 'victory lap'. Food, Electricity, Housing, Energy all up and choking avg Amercans and they are celebrating their good work!"
"So buy very expensive solar panels and we'll give you 30 percent back and buy other stuff and we'll give you 10 percent back. What is she smoking?" Talk show host Joe Pags Pagliarulo posted on his Twitter account.
Following the release of the inflation statistics, Biden came under fire for praising the Inflation Reduction Act's passage.