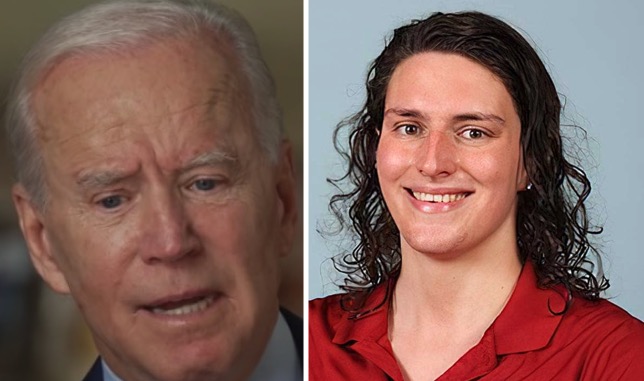 The incompetent Biden administration has declined to say whether Lia Thomas' domination in NCAA women's swimming changes has changed Biden's mind about biological males competing in female sports.
After Thomas won Ivy League championships in three distinct disciplines this past week and broke many records in the process, the White House was questioned.
Lia Thomas, originally Will Thomas, swam for three years on the men's team before transferring to the women's. Despite the fact that Lia had testosterone suppression for a year before joining the women's team, opponents argue that this does not undo the effects of nearly 20 years of supposedly normal male testosterone levels.
Biden has worked hard during his 13 months in the White House to ensure that biologically male athletes who identify as transgender girls are allowed to compete in female sports.
Biden also advocated for the passage of the Equality Act, which would change federal anti-discrimination law to include gender identity as a protected category. The law would mandate that biologically male athletes who identify as transgender girls compete in female sports at schools across the country.
The Justice Department and the Education Department have decided that prohibiting transgender athletes from competing as the gender they identify as is a violation of Title IX, reversing Trump-era policies.
The White House's support for transgender athletes contrasts sharply with the views of others who have come out against the NCAA's current transgender policy.
Parents and other competitors have expressed their dissatisfaction with the situation's unfairness. This has gone unnoticed by the NCAA and the Ivy League, which have not changed their policies.
Lia's female teammates have also expressed their dissatisfaction with the situation.
The female swimmer requested anonymity because she was afraid of leftists attacking her and ruining her life.
A teammate claimed that public support for Thomas is phony.
Anyone who expresses dissent will be attacked by the left-wing attack machine and those who are working hard to advance the transgender agenda. The Ivy League and the NCAA have both implemented similar policies on the subject, claiming that it improves inclusivity and has no negative influence on women's sports.