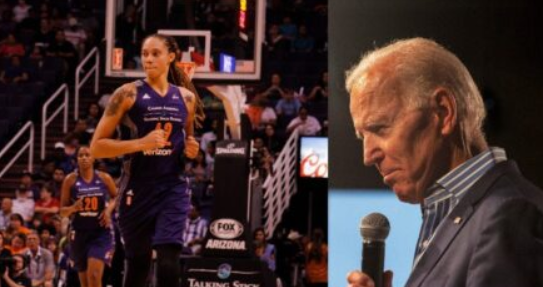 It is clear that Team Biden wants you to believe that it is in charge, that America is still in the lead, and that his administration can obtain what it wants from the country's rivals and adversaries. This is why Biden said, "Nobody f***s with a Biden," because he wants to project and appear strong in the White House.
The case of Brittney Griner, however, is disproving that to be the case. Russia captured and imprisoned the WNBA player who despises America and traffics in hashish oil, and Team Biden has so far been unable to win her release, despite supposedly offering a prominent arms dealer in return for her.
And when the Russians escalate the situation, moving beyond simply condemning her for nine years and fining her a million rubles to actually sending her to a hard labor camp, that powerlessness is proving to be more and more embarrassing for Team Brandon.
Griner has recently returned to the news due to the disclosure of the labor camp, thus a reporter recently questioned National Security Advisor Jake Sullivan about the circumstance during a press briefing.
" I want to ask you about Brittney Griner and then President Putin more broadly. But she's been moved to a penal colony and apparently hasn't been seen for six days. What can you tell us about her condition? When is the last time that U.S. officials had any kind of update on her condition? And what is your level of optimism that now that we are past the midterms, President Putin will be more potentially serious about negotiating her release?"
Although Sullivan made an effort to respond, his response revealed that America is powerless and that, despite efforts by Team Biden to secure Griner's release, the Russians aren't cooperating.
"So I have to protect the confidentiality of our dealings with her family and some of our consular dealings with Russian officials. But I will tell you, on a daily basis, our embassy in Moscow is focused on ensuring that Brit- — they are on top of Brittney Griner's condition, location, and how the Russian government is treating her."
Brittney is being kept unlawfully, he continued, and she has to be released right away. He highlighted that our Russian counterparts had been informed of this.
The White House has put forth a number of suggestions over the past few months to address her situation as well as Paul Whelan's case and bring them both home, according to Sullivan. The Russians have not yet demonstrated a readiness to participate in the back-and-forth necessary to reach a conclusion.
Sullivan concluded, "I can't handicap it. I can't give you any predictions. All I can tell you is President Biden is personally engaged on this. I am personally engaged on this. We are dealing with the Russians at very senior levels, and our diplomats on the ground are working overtime to ensure that they are staying in close touch with their Russian counterparts on her case. "