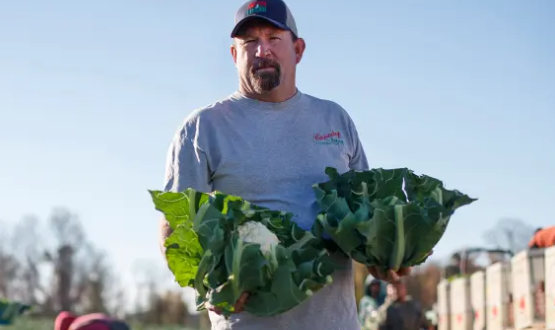 The United States is expected to buy more agricultural goods than it exports in the coming months, a worrying scenario for family farmers in the country who claim that government involvement endangers their livelihoods and the country's food security.
"The United States has never had any trouble feeding itself and much of the world, too. I guess the politicians just figure we'll keep going no matter what they do to us. But, you know, there is a limit," remarked farmer Tim Stanton from upstate New York.
Farmers all around New York and New Jersey claim that President Biden's war on energy, Governor Hochul's betrayal of the labor movement, foreign competition, and other issues are pushing them to those boundaries.
Since their arrival from Ireland in 1895, George Cassaday's family has produced food at Cassaday Farms in Monroeville, New Jersey; now, due to federal regulations, inflation, and bogus virtue-signaling, he is prepared to give up.
Cassaday claimed that despite the Garden State's Jersey Fresh marketing effort, grocery corporations in the New York region take advantage of consumers by devaluing regional farmers.
"There's a lot of fraud in produce. There is no definition of what 'local' is. Local can be 500 miles away; local can be anywhere in the Northern Hemisphere. So they lie to the public. They fool you into thinking you're buying all this local stuff, and it's not local at all."
He claimed that large retail chains import sweet potatoes from Georgia, where seasonal agricultural laborers are only required to make $11.99 per hour under federal law as opposed to the $15.54 required in New Jersey.
In the meantime, purchasers, who are also feeling the effects of inflation, are giving farmers less and less.
Tim Stanton, a third-generation farmer in New York, claims that most farmers have a positive outlook on life. However, the recent years have diminished their momentum.
Natasha Stein-Sutherland feeds her herd a diet made up primarily of crops cultivated on her 2,400 acres in Rochester, New York, including corn, alfalfa, sorghum, and triticale. Each cow also wears a device resembling a Fitbit to track their wellbeing and maximize output.
"Farmers know we've got to be leaner, smarter, faster. It's the only way we're going to survive."
In his 350-acre wholesale tree-fruit farm in Appleton, New York, Jim Bittner is fighting a losing struggle against globalization and inflation.
"I used to be the largest grower of peaches processing in New York, for fruit cocktails and diced peaches. But we lost that peach processing market to China. We had to remove all that acreage. There was no home for it."
Farmer Brian Reeves, whose family has been managing the same 1,000-acre property west of Syracuse, New York, for more than a century, claimed that decades of state Democratic policies have destroyed his company.
Each year, he cultivates 350 acres of berries and vegetables, including tomatoes, peppers, sweet corn, squash, and more, for stores like Wegmans and Walmart.
However, Governor Kathy Hochul is about to take direct aim at Reeves' enterprise. The Labor Department of the Democratic Party will gradually lower the threshold for overtime pay for farm workers starting in the following year. Farmers complain that this is an unrealistic standard for a job that depends on the weather and that it could all but eliminate local crops from the markets in New York.