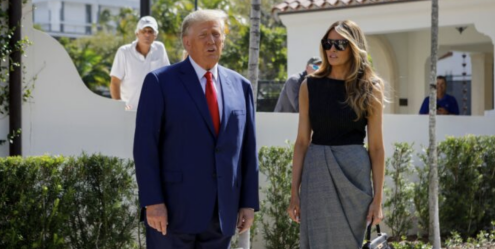 On Thursday, former president Donald Trump claimed that rumors regarding his anger about the results of the 2022 midterm elections, including one that claimed he had yelled at Sean Hannity of Fox News and former first lady Melania Trump, are untrue.
Trump posted on Truth Social, "For those many people that are being fed the fake narrative from the corrupt media that I am Angry about the Midterms, don't believe it. I am not at all angry, did a great job (I wasn't the one running!), and am very busy looking into the future. Remember, I am a 'Stable Genius'."
The former president then apologized to Hannity and his wife for all of the false information and made-up stories that were spread.
He referenced a report by Maggie Haberman in the New York Times that said anonymous sources had indicated that Donald Trump was upset with his wife as a result of Republican Dr. Mehmet Oz's defeat to Democrat John Fetterman in the Pennsylvania Senate race.
"There is a Fake Story being promulgated by third rate reporter Maggie Hagaman of the Failing New York Times, that I am blaming our great former First Lady, Melania, and Sean Hannity, that I was angry with their pushing me to Endorse Dr. Oz. First of all Oz is a wonderful guy who really worked hard and was a very good candidate, but he WAS LONG IN THE RACE before I ever Endorsed him, they had NOTHING to do with it."
As a result of some of the former president's many endorsements failing to materialize, due to Republicans' attack. Although it's unclear if the announcement the former president is making for next week would be connected to a potential 2024 run, some recommended him to postpone it.
Trump did, however, score some big victories on Tuesday, especially in Ohio, where JD Vance, author of the novel Hillbilly Elegy, easily won the Senate seat after Trump's endorsement propelled him to the head of a crowded primary field. A vacant Senate seat in North Carolina was retained by the GOP thanks to Rep. Ted Budd, a Trump early selection.