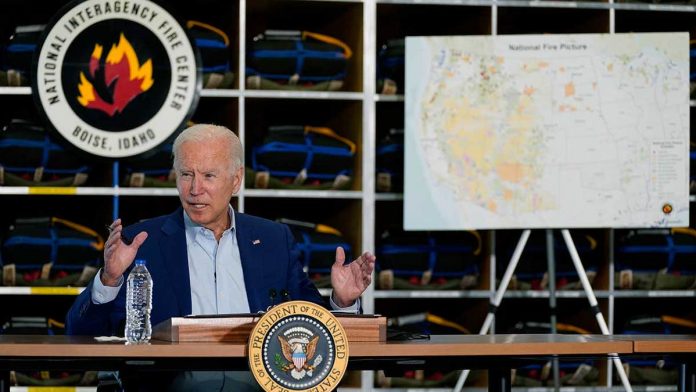 The White House cut abruptly the feed of President Biden's briefing about wildfires with federal officials and state officials.
Biden was briefed Monday about ongoing wildfires in several west-coast states during his visit to Boise.
Biden spoke most of the briefing but at one point said that he would like to hear more from George Geissler, National Association of State Foresters.
"Can I ask you a question?" Biden asked.
"Of course," Geissler responded.
"One of the things that I've been working on with some others is —" Biden said before being cut off midsentence.
Fox News reached out to the White House for clarification but they did not respond immediately.
Watch It Here:
BIDEN: "Can I ask you a question?"

*White House feed cuts out" pic.twitter.com/YQ9I9u3r98

— RNC Research (@RNCResearch) September 13, 2021
The White House has intervened to prevent Biden's voice from reaching the general public. The president's audio feed was blocked last month as he was responding to a reporter about his administration's deadline for withdrawing troops from Afghanistan.
The White House removed the feed-in March after Biden stated that he was happy to answer questions while speaking with Democratic lawmakers at a virtual conference.
This latest incident follows Politico's report that White House staffers will "mute [Biden]" or "turn off his remarks" because of "anxiety" about whether he will divert from "the West Wing's carefully orchestrated messaging."
Jen Psaki, White House Press Secretary, previously stated in an interview that Biden is frequently advised by her staff to not answer questions.
Biden caused a stir last week when he said to a crowd that he was supposed to "stop and walk out of this room" at an event hosted by the White House. This was in response to his prepared remarks.