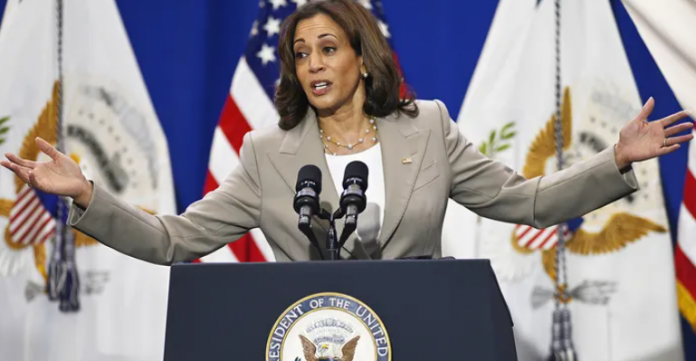 Kamala Harris, the vice president, came under fire for yet another wordy sentence that went viral on Tuesday.
Together with Education Secretary Miguel Cardona, Harris attended a roundtable discussion with student leaders at Claflin University in South Carolina. She got caught on the term "community" as she was describing how the Biden administration had invested in community banks.
"We invested an additional $12 billion into community banks, because we know community banks are in the community, and understand the needs and desires of that community as well as the talent and capacity of the community," in a video that circulated on social media, she stated.
Kamala Harris, the greatest orator since Winston Churchill, on community banks. Enjoy: pic.twitter.com/1mcLkqpCN9

— Clay Travis (@ClayTravis) September 20, 2022
Twitter users immediately made fun of Harris' long, winding statement, which has come to be known as a "word salad."
Matthew Betley, a columnist and screenwriter, replied, "You would think by now she'd have a copy editor to say, 'Maybe we shouldn't repeat the same word five times in the same sentence.'"
This is simply the most recent instance of Harris having a word stuck on repeat.
In response to the deadly shooting at an Independence Day celebration that left seven people dead, Harris remarked during a visit to Highland Park, Illinois: "We've got to take this stuff seriously, as seriously as you are because you have been forced to take this seriously."
She observed the passing of time in March while visiting Louisiana, "We were all touring the library here and talking about the significance of the passage of time, right? The significance of the passage of time. So when you think about it, there is great significance to the passage of time in terms of what we need to do to lay these wires, what we need to do to create these jobs. And there is such great significance to the passage of time when we think about the day of the life of our children."