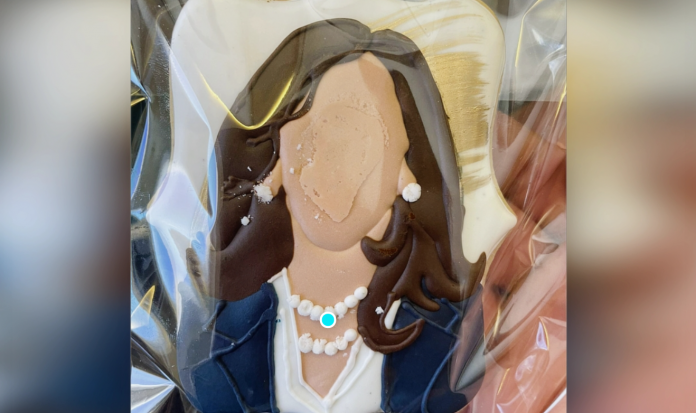 Vice President Kamala Harris handed out cookies with her likeness on them to reporters aboard Air Force 2 on Sunday
The treats featured a bust of her drawn in frosting without the details of her face
USA Today reporter Courtney Subramanian shared a photograph of one of those biscuits on Twitter — sparking an onslaught of criticism from conservatives
@vp made an OTR visit to the back of the plane and delivered cookies decorated with the shape of her likeness as well as AF2. pic.twitter.com/TQrUR47Vgc

— Courtney Subramanian (@cmsub) June 7, 2021
The biscuits were gifted to the VP with a black-owned Washington, DC, bakery
Kamala Harris has come under fire for handing out biscuits with her likeness throughout her first overseas tour of Central American nations ravaged by the boundary crisis.
The vice president talented the treats — that featured a bust of her drawn in frosting without the specifics of her face — to reporters aboard Air Force 2 on Sunday as she set off for Guatemala.
USA Today reporter Courtney Subramanian shared a photograph of one of those biscuits on Twitter — sparking an onslaught of criticism from conservatives.
Another set of cookies is reported to have featured Air Force 2, as per a tweet posted Sunday night by Subramanian.
Many critics wondered why the vice president could give biscuits out of her own likeness while she faces backlash for averting the US-Mexico border, a trip she said could be akin to nothing but a'grand gesture.'
The former presidential hopeful visited Guatemala on Monday to attempt to deal with the'root causes' of illegal immigration.
The vice president drew even more comparisons to a particular French monarch.