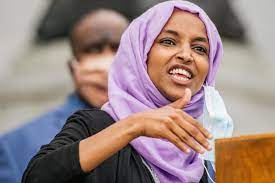 Democratic leaders issued a joint statement stating they don't approve of opinions made by democrat Ilhan Omar about the Israeli-Palestinian battle, based on Fox News.
Omar tried to clarify her remarks.
"To be clear: the conversation was about accountability for specific incidents regarding those ICC (International Criminal Court) cases, not a moral comparison between Hamas and the Taliban and the U.S. and Israel," Omar stated.
"I was in no way equating terrorist organizations with democratic countries with well-established judicial systems."
House Nancy Pelosi and five other democrats combined together in a statement.
"Drawing false equivalencies between democracies like the U.S. and Israel and groups that engage in terrorism like Hamas and the Taliban foments prejudice and undermines progress toward a future of peace and security for all."
"We welcome the clarification by Congresswoman Omar that there is no moral equivalency between the U.S. and Israel and Hamas and the Taliban."
We must have the same level of accountability and justice for all victims of crimes against humanity.

We have seen unthinkable atrocities committed by the U.S., Hamas, Israel, Afghanistan, and the Taliban.

I asked @SecBlinken where people are supposed to go for justice. pic.twitter.com/tUtxW5cIow

— Rep. Ilhan Omar (@Ilhan) June 7, 2021
Alexandria Ocasio-Cortez said, "Pretty sick & tired of the constant vilification, intentional mischaracterization, and public targeting of Rep. Ilhan Omar coming from our caucus."
"They have no concept for the danger they put her in by skipping private conversations & leaping to fueling targeted news cycles around her."