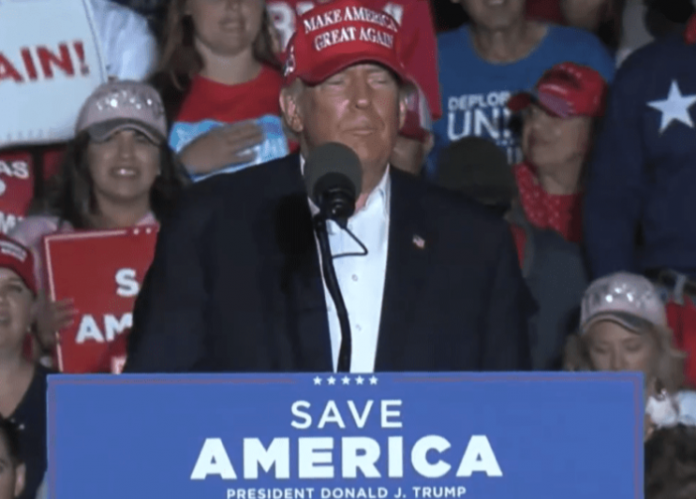 On Saturday night, the crowd at former President Donald Trump's event in Texas started singing the national anthem.
Supporters jammed into the Robstown venue gave Trump pause as they sang the Star Spangled Banner louder and louder as he continued to focus on the January 6 committee's inquiry.
Trump, sporting one of his trademark red "Make America Great Again" caps, grinned and applauded as the crowd roared in approval after the "Home of the brave" phrase.
"Wow that's so beautiful," Trump remarked after a round of "USA" chants. "You know when this whole big group stood up, I said, 'Oh we have protesters.' And you know what? They are protesting. They are protesting what's taking place in our country, and it's so bad, and it's so wrong," he said.
Trump supporters at his rally in Robstown, TX sing the National Anthem.
WATCH LIVE: https://t.co/CshRFQxxD5 pic.twitter.com/bIjN7Jb2fe

— Washington Examiner (@dcexaminer) October 23, 2022
With just over two weeks until the midterm elections, Trump held a rally in Texas. With his freshly remodeled Boeing 757, dubbed "Trump Force One." he landed in style.
Trump has hinted at another campaign for president in 2024, though he hasn't really announced it. In the meantime, he's backed a large number of people running for politics in the midterm elections.