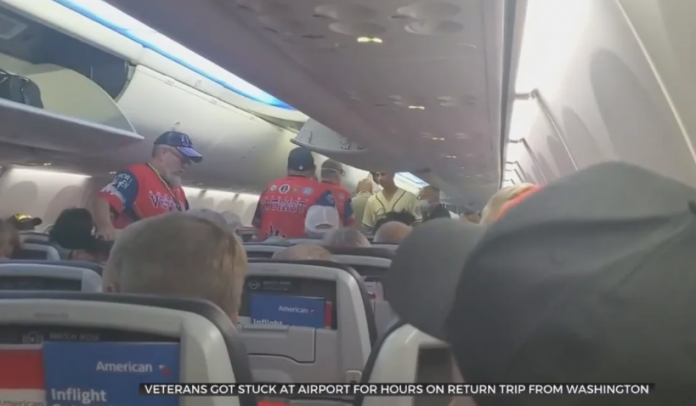 Witnesses hailed it as a stunning display of unity. When one veteran was told he couldn't fly due to safety concerns, a group of nearly 60 US veterans decided to deboard a plane on their way home from Washington, D.C.
The group of Oklahoma veterans had just returned from a four-day trip to Washington, D.C., arranged by Northeast Oklahoma Veterans Freedom Tour, a non-profit committed to taking veterans on tours of memorials and monuments around the country.
They were about to board an aircraft in Charlotte, North Carolina, to return to Tulsa when they discovered that one of their group members was unable to travel. His oxygen concentrator's batteries had died and he couldn't recharge it using the plane's electrical outlets.
Due to the lack of a charging port for the medical gadget, American Airlines felt it would be risky for the veteran to fly. They told him he couldn't fly for the sake of his safety.
The other veterans on the trip decided to accompany him off the plane after hearing the bad news. Wayne Perego, one of the group's leaders, claimed they didn't make the choice lightly and had made a commitment.
Back inside, the party began looking for other flights or modes of transportation, as well as where to obtain extra oxygen concentrator batteries. They stayed till 5 a.m. at the airport. Hotel rooms and taxis were booked by Americans.
American offered pizza and transportation back to the airport the next morning. Extra batteries were brought in from Norfolk, Virginia, and the party was booked on a chartered airplane just for the veterans.
When they eventually landed in Tulsa, they were greeted by a large gathering of fans.