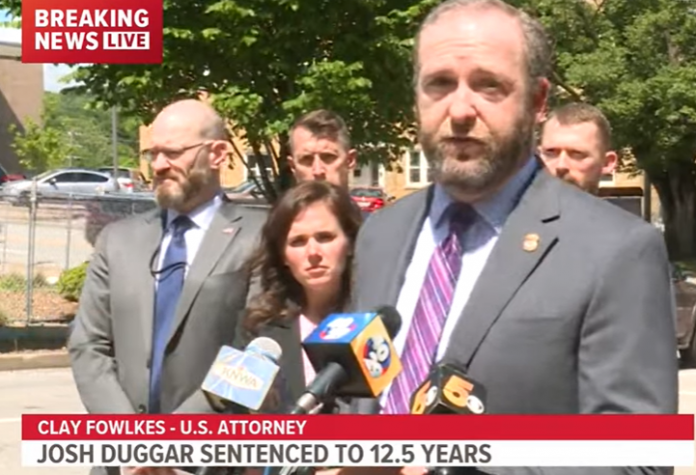 Josh Duggar, the former star of 19 Kids and Counting, a TLC reality show about a big family with traditional Christian beliefs, was sentenced to 151 months in prison for a series of child pornography crimes in Fayetteville, Arkansas, on Wednesday.
Josh Duggar, a onetime star of the TLC reality show "19 Kids and Counting," about a large family guided by conservative Christian values, was sentenced to more than 12 years in prison on Wednesday for downloading child sexual abuse imagery. https://t.co/jjkHZt9830

— The New York Times (@nytimes) May 25, 2022
The disgraced reality TV personality was found guilty of two counts of knowingly receiving and having child pornography in December 2021. Judge Timothy L. Brooks determined during Duggar's sentencing on Wednesday that the 34-year-old did not intentionally disseminate the child pornography, reducing the original request for a 20-year sentence to 12.5 years.
The legal team for Duggar intends to appeal the punishment.
"We're relieved that the judge dismissed Count 2 and denied the government's request for a 240-month sentence." Travis Story, Duggar's attorney, stated, "We look forward to continuing the fight on appeal."
According to federal law enforcement authorities, after Duggar is released from jail, he will be placed on a 20-year post-release monitoring program. A fine of $50,100 has also been imposed on him.
Josh Duggar sentenced to 12.5 years in jail, following child porn trial. https://t.co/WuwPhWyzAD

— TMZ (@TMZ) May 25, 2022
Following claims that Duggar had assaulted four of his sisters and a nanny years prior, TLC cancels 19 Kids and Counting in 2015. Authorities began investigating the abuse in 2006 after receiving a report from a family friend, but determined that any potential charges had passed the statute of limitations.
Duggar has been under scrutiny for suspected fondling of underage children since 2002, and by 2006, there had been an upsurge in accusations, prompting police action. The charges against him had acquired broad public notice by 2015. In 2019, the Department of Homeland Security became involved in the matter and raided Duggar's house, but no charges were filed. In 2021, he was arrested for possessing child pornography.