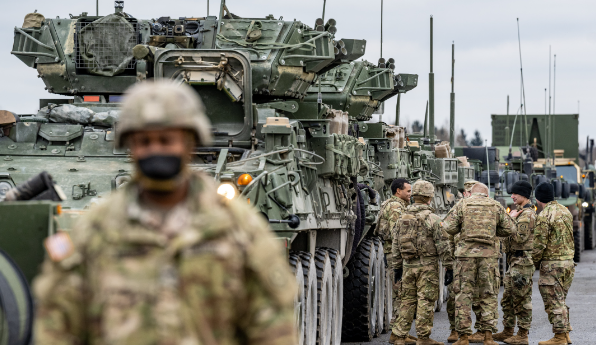 According to the Pentagon, American military troops have been sent to Ukraine to monitor the supply of weapons and ammunition made possible by American tax dollars.
Under Brig. Gen. Garrick Harmon's supervision, a US defense attaché of military troops has been assigned to undertake weapons inspections of the weapons provided to the Ukrainians in order to allay worries that American military equipment will wind up on the black market.
The military operation, which is being carried out in conjunction with the Office of Defense Cooperation based at the US Embassy in Ukraine, aims to improve Kyiv's capacity to establish border checks for weapons smugglers, step up training for Ukrainian inspectors and guards, and provide training on how to properly dispose of or destroy weapons and munitions.
United States Military Training Ukrainian Soldiers in Germany, Pentagon Admits https://t.co/at5NrXrh7r

— Breitbart London (@BreitbartLondon) May 1, 2022
A senior defense officer remarked, during a briefing at the Pentagon without names, which has since had its transcript made public, "There have been several of these inspections".
The unnamed official said ensuring accountability of advanced weapons donations is a top priority and described the proactive measures taken to prevent American weapons from falling into the hands of smugglers and criminals in Ukraine, while emphasizing that the Department of Defense had not yet seen evidence of equipment being diverted.
The unidentified official confirmed that US forces were formally stationed inside Ukraine, "U.S. personnel have recently resumed on-site inspections to assess weapon stocks in country whenever and wherever the security conditions allow. The return of our defense attaché and Office of Defense Cooperation personnel in country has allowed us to resume this critical function."
Ten days prior to the Russian military's full invasion of Ukraine, American troops withdrew from the country formally on February 14. This was done to avert a possible conflict between the two nuclear-armed superpowers.
Although American military forces have not been officially confirmed to be present in the country up until this point, the CIA is said to have sent intelligence agents there to assist the Ukrainian military with training and logistical support, according to a July article in the New York Times. The newspaper continued by asserting that a small number of NATO commandos, including those from Britain, Canada, France, and Lithuania, were still working in the country.
UK Govt Helping Ukraine 'Rebuild Its Forces' by Training Up to 10,000 Recruits in Britain https://t.co/AqE74cO9ee

— Breitbart London (@BreitbartLondon) July 10, 2022
The United States Armed Forces were actively training Ukrainian soldiers in Germany and other countries in Europe, according to Pentagon Press Secretary John F. Kirby, who made the revelation in April.
In February, President Joe Biden declared that American forces would not be deployed to Ukraine, "Our forces are not and will not be engaged in the conflict with Russia in Ukraine. Our forces are not going to Europe to fight in Ukraine but to defend our NATO Allies and reassure those Allies in the east."
The Biden administration is reportedly developing a new $50 billion aid package for Ukraine when it was revealed that American forces are operating there. The American government has so far authorized $65 billion in aid for the nation since the invasion in February.