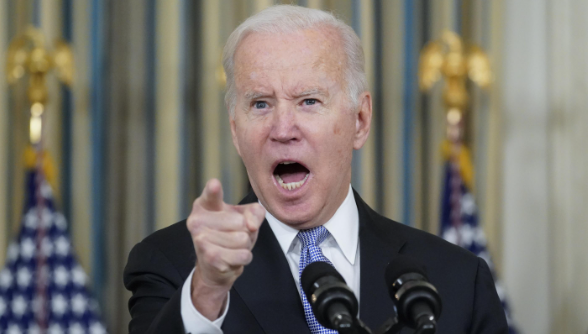 President Joe Biden's recent words threatening windfall taxes and limits on oil firms received harsh criticism from the business group that represents America's oil industry.
At a press conference held at the White House on October 31, Biden criticized the country's top oil producers and urged them to increase domestic oil output and reduce consumer costs or risk restrictions.
He also charged the energy sector with war profiteering, referring to recent gains as a windfall from the conflict in Ukraine, and asserted that they owed it to their customers, communities, and nations to behave in their best interests.
A week before the midterm elections, the president threatened to impose a windfall tax penalty on oil firms.
Since the Democrats are concerned about high energy costs, the White House used last week's record quarterly profit reporting by significant American oil corporations as leverage to put pressure on the industry.
Any further taxes on oil earnings would nevertheless require congressional approval, and the Democrats' hold on both houses of Congress is tenuous at best.
"My team will work with Congress to look at these options that are available to us and others. It's time for these companies to stop war profiteering, meet their responsibilities in this country, and give the American people a break and still do very well," Biden said.
In order to lower gas prices at the pump, the president insisted that oil corporations use their additional revenues in boosting production and refining capacity.
The president said that if they don't, they would face more restrictions and a higher tax rate on their surplus profits. He finished by adding that when Congress returns, energy businesses will learn more about the situation.
The Democrats will, however, have little time to enact tax limitations on the sector before the new term begins in January if the Republicans regain control of Congress.
The POTUS' Twitter post said, "The oil industry has a choice. Either invest in America by lowering prices for consumers at the pump and increasing production and refining capacity or pay a higher tax on your excessive profits and face other restrictions."
With reference to Biden's comments on gas prices and industry sanctions, the American Petroleum Institute (API) issued a press release of its own in response.
Mike Sommers, API's president and CEO stated, "Rather than taking credit for price declines and shifting blame for price increases, the Biden administration should get serious about addressing the supply and demand imbalance that has caused higher gas prices and created long-term energy challenges. Today, the president proposed to raise taxes on the U.S. natural gas and oil industry that is competing globally to produce the fuels Americans need every single day. Oil companies do not set prices—global commodities markets do. Increasing taxes on American energy discourages investment in new production, which is the exact opposite of what is needed. American families and businesses are looking to lawmakers for solutions, not campaign rhetoric."