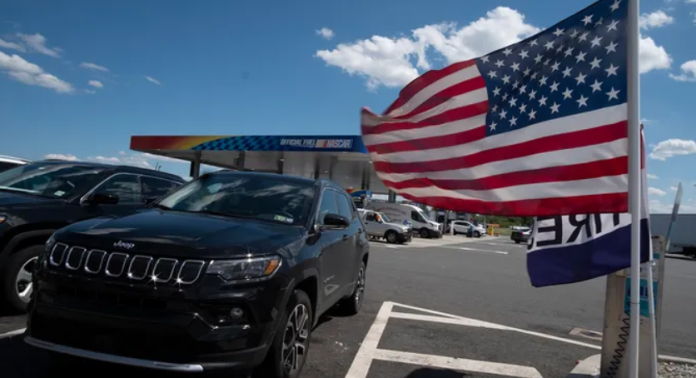 As the Federal Reserve works to contain the worst inflation in almost four decades, Wall Street is on the lookout for signals of an impending economic slump, and one indicator suggested this week that one may be on the way.
The Atlanta Federal Reserve Bank's carefully watched indicator implies the US economy may be heading for a second-quarter drop in gross domestic product, the broadest measure of goods and services generated in a country.
Economic growth in the spring was flat at 0%, according to the GDPNow tracker, down from prior estimates of 1.3 percent on June 1 and 0.9 percent on June 8.
According to the National Bureau of Economic Research (NBER), which records downturns, recessions are formally defined as two consecutive quarters of negative economic growth and are characterized by high unemployment, low or negative GDP growth, declining income, and sluggish retail sales.
The United States' economy is already slowing. Last month, the Bureau of Labor Statistics revealed that the economy unexpectedly dropped by 1.5 percent in the first quarter of this year, the weakest performance since the spring of 2020, when the economy was still mired in the COVID-induced recession.
Should the economy contract in the second quarter, it may fulfill the technical conditions for a recession, but the official arbitrator, the National Bureau of Economic Research, may not certify it right once.
As the Federal Reserve moves to aggressively tighten monetary policy in order to cool consumer demand and bring inflation back down to its target of 2%, a growing number of economists and Wall Street firms, including Bank of America, Deutsche Bank, and Wells Fargo, are predicting a recession within the next two years.
As it shifts into full inflation-fighting gear, the Fed hopes to achieve the rarest of economic feats: lowering consumer demand enough to keep prices from increasing without putting the country into recession.
As part of its fight on inflation, the Fed raised its benchmark interest rate by 75 basis points for the first time since 1994 on Wednesday. In July, another rate hike of that amount is planned, bringing the federal funds goal range to 2.25 percent to 2.50 percent, the highest level since the COVID-19 outbreak began two years ago.