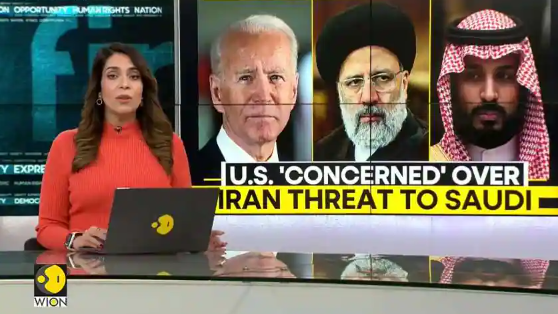 Iran is in the midst of an ongoing struggle with its civilian population. On September 16, Iranian morality police arrested 22-year-old Jina "Mahasa" Amini for allegedly violating Iran's strict dress rules for women. In their care, the Kurdish woman passed away after going into a coma. In response to nationwide demonstrations calling for women's rights and the overthrow of the Islamic dictatorship, the government killed more than 200 people and detained more than 1,000 others.
As the demonstrations gained momentum, Iranian authorities accused their enemies of fomenting instability. The US received intelligence from Saudi Arabia on Tuesday, October 1, warning of an impending attack on them and other Middle Eastern regions, according to the Wall Street Journal.
Saudi Arabia Warns of Imminent Attack By Iran
In light of the intelligence-sharing data, Saudi Arabia, the United States, and several other countries in the Middle East put their militaries on a heightened alert. The Saudis said that the regime was prepared to strike both their nation and Erbil, Iraq, where US troops are stationed. In September, Iran launched dozens of ballistic missiles and armed drones toward Erbil in the country's northern area. A US military fighter plane shot down one of them.
According to Saudi sources, the provocations are a reaction to the internal demonstrations and the Mullahs seek to divert attention away from them.
Iran claims the US, Saudi Arabia, and Israel are instigating protestors. In October, the Islamic Revolutionary Guard Corps (IRGC) commander warned the kingdom to get control over the coverage it allowed of the demonstrations. Maj. Gen. Hossein Salami issued what he said was a last warning to the Saudis for allegedly inserting itself into internal problems, warning the nation knows it's vulnerable. On October 29, Salami warned Iranians not to take to the streets and stated it was the last day of the riots.
Will Diplomatic Strains Break Military Alliance?
Relations between the nations are still difficult after he took office in January 2021, and Riyadh has refused to raise oil output, as promised by then-Democratic presidential candidate Joe Biden during the 2020 campaign. OPEC+ decided to reduce production by 2 million barrels of oil per day in October. Prior to the 2022 midterm elections, the effect will probably lead to an increase in petrol prices in the US and contribute to inflation.
Biden recently expressed a desire to review the US relationship with Saudi Arabia and determine whether it is beneficial to US national security, according to the White House. Nevertheless, many think the US is unlikely to abandon the monarchy and jeopardize our counterterrorism efforts.