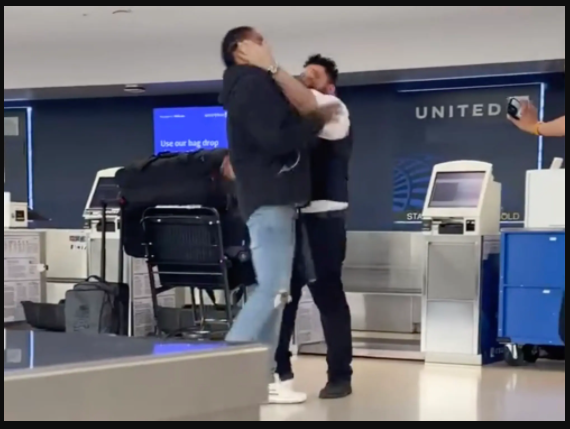 The United Airlines employee captured on camera fighting with a former NFL player at Newark Airport last week has been dismissed.
An airline representative stated in an email that the employee had been sacked by United Ground Express, the company's connecting subsidiary.
Around 11 a.m. on Thursday, the unnamed worker pushed ex-Denver Broncos cornerback Brendan Langley, 27, who then unleashed a barrage of strikes that sent the employee falling. After that, the disoriented uniformed employee raises his dukes and slaps the much-larger athlete across the face.
Langley yells at a bystander before punching him in the face, knocking him to the ground and causing him to bleed profusely. The bloodied United employee rises to his feet and confronts the football player once more.
Langley, a receiver with the Calgary Stampeders of the Canadian Football League, was arrested on a charge of simple assault. Although it is unclear who threw the initial blow in the video, the now-former airline employee has not been prosecuted in the altercation.
Another footage of the altercation that was released online claimed to show Langley landing the initial hit.
The dispute is thought to have started when Langley used a wheelchair to transfer his bags rather than a $5 luggage cart.
"Yall aint off the hook, worst customer experience in the entirety of my life on Heaven!!!!" Langley said on Twitter in response to the event. He then claimed in a tweet that the United employee had assaulted him and that he was defending himself.
In a statement released Monday, a United representative stated, "We do not tolerate any form of violence at our airports or on our planes, and we are working with local authorities to further investigate this matter."
An enquiry concerning prospective charges against the sacked employee was not returned by the Port Authority police.