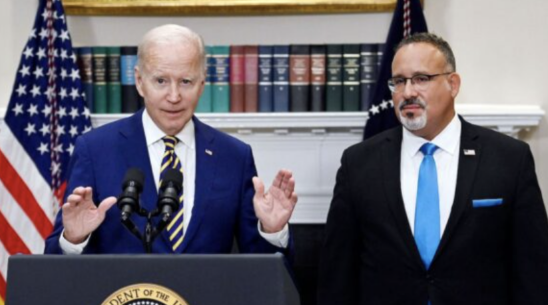 A federal judge in Texas on Wednesday rejected President Joe Biden's proposal to forgive hundreds of billions of dollars in student loan debt for Americans.
Trump appointee and US District Judge Mark Pittman said in a 26-page decision that the plan violates the Constitution and must be overturned.
In response to a lawsuit brought by the Job Creators Network Foundation on behalf of two borrowers, Myra Brown and Alexander Taylor, who contend that they suffered losses as a result of this executive overreach.
The lawsuit, which was filed last month, claimed that the administration broke the Administrative Procedure Act's notice-and-comment rules, according to which the administration was required to solicit feedback from the public before implementing the program.
The US Department of Education and Miguel Cardona, who was the secretary of education at the time, were named as defendants.
The Higher Education Relief Opportunities for Students (HEROES) Act of 2003, which gives the Department of Education the right to cancel so much debt for so many people due to the COVID-19 pandemic, is cited by the White House as supporting the legality of the student loan cancellation program.
Pittman ruled on Wednesday that the $400 billion student loan forgiveness scheme was not authorized by the HEROES Act.
It is not the responsibility of this Court to decide whether the Program represents sound public policy. Nevertheless, it is without a doubt one of the largest exercises of legislative power without congressional approval or delegations of legislative authority to the executive branch in American history.
For anyone making less than $125,000 annually or married couples making less than $250,000 annually, Biden indicated in August that he intended to forgive up to $10,000 in student loan debt. Recipients of Pell Grants would also be eligible for a $10,000 debt forgiveness.
On September 29, the program was revised, substantially reducing eligibility.
The initiative has been hailed by the administration as offering assistance to Americans laboring under the burden of their staggering student loan debt.
Republicans in Congress and other experts worry that it will add to the nation's debt and put additional pressure on the economy at a time when inflation is roiling the nation.