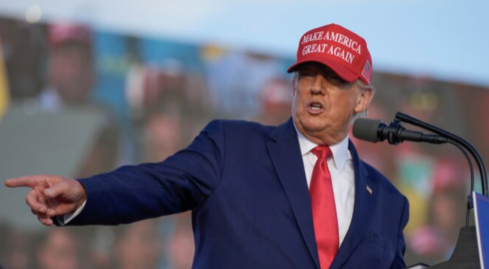 In the state's gubernatorial election, former president Donald Trump disclosed on Tuesday that he supported Florida Gov. Ron DeSantis.
In Palm Beach, Florida, where he had just left a polling place, Trump told reporters that he had cast his ballot for the Republican incumbent governor. Democrat and former governor Charlie Crist is DeSantis' opponent.
Trump suggested on Tuesday that he would make his presidential run announcement on November 15. The 45th President has frequently stated that he would make this announcement in the last weeks leading up to the midterm elections.
Prior to taking the stage at a rally in Ohio on Monday night, there were reports that Trump might formally declare his candidacy. These speculations, however, turned out to be untrue, and he now claims to be making a significant announcement on November 15, one week after the midterm elections.
Trump said that announcement would be made at his Mar-a-Lago home on Monday.
Tens of millions of people are expected to cast ballots in Tuesday's key midterm elections. Numerous experts predict that Republicans will almost certainly win the House and stand a decent chance of winning the Senate.
"This is the year we're going to take back the House. We're going to take back the Senate. And we're going to take back America. And in 2024, most importantly, we are going to take back our magnificent White House. We'll take it back."
Recent polls have shown that DeSantis is significantly ahead of Crist and that Rubio is ahead of Democrat Val Demings. DeSantis became a breakthrough star for the GOP during the COVID-19 outbreak for generally refusing to enforce lockdowns and vaccine mandates.
"With thousands of proud, hard-working American patriots, incredible people–just two days from now, the people of Florida are going to reelect the wonderful, the great, a friend of mine, Marco Rubio to the United States Senate, and you're going to reelect Ron DeSantis as your governor of the state. And you're going to elect an incredible slate of true MAGA warriors to Congress," Trump concluded.