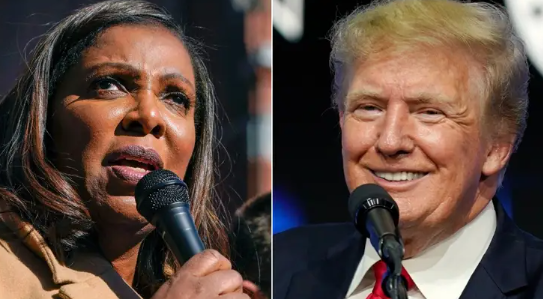 Letitia James, the attorney general of New York, is being sued by Donald Trump for allegedly waging an intimidation and harassment campaign against him.
It comes after a lawsuit Ms. James filed in September accusing Mr. Trump and three of his children of fraud over a ten-year period.
Republican Mr. Trump has long charged that the Democrat is using her position for personal advantage.
Any impropriety has been consistently denied by the former president.
In the most recent complaint, Mr. Trump accused Ms. James of waging an unrelenting, poisonous, public, and unrepentant crusade against him and the Trump Organization. The action was filed with the Florida State Circuit Court.
Former President Trump files lawsuit in Florida state Circuit Court against New York Attorney General Letitia James pic.twitter.com/HIB2ZWsgUA

— Luke Parsnow (@coolhand_luke88) November 3, 2022
In addition, he claims that the attorney general's own action against him is an attempt to seize control of his company that started as a cartoonish, veiled attempt to defame the former president.
He stated on his Truth Social social media page that this would not be taking place if he were not significantly ahead of both Democrats and Republicans in the polls.
The lawsuit is the most recent development in their ongoing dispute with Ms. James, who campaigned on a platform promising to expose Mr. Trump's business activities.
Ms. James is the first black woman to serve as New York's attorney general. Mr. Trump, on the other hand, has accused her of leading a witch hunt and called her a racist.
In another move on Thursday, a New York judge mandated that before the attorney general's lawsuit gets to trial, an impartial overseer must be appointed to make sure there is no further fraud at the Trump Organization.
The decision restricts the company's ability to enter into agreements, alter its corporate structure, and sell or transfer any non-cash assets without providing the court and Ms. James' office with a 14-day notice.