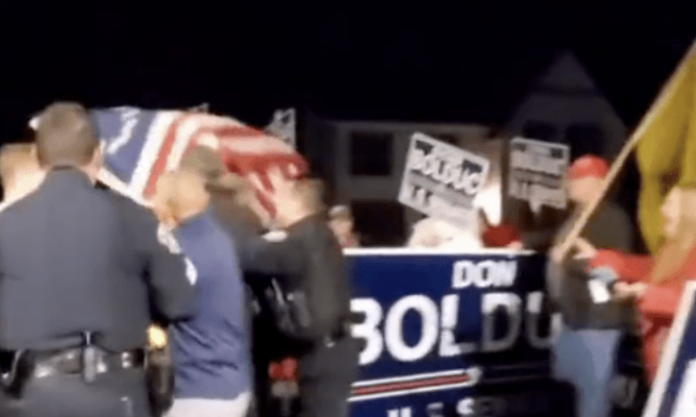 There appears to be an increase in political violence, particularly towards GOP leaders.
We previously covered the Lee Zeldin case, and more recently, a Marco Rubio neighborhood canvasser was also savagely beaten by insane lefties.
An alleged attack on GOP Senate candidate Don Bolduc late Monday night saw the fighting continue.
Bolduc is said to have been assaulted during a discussion event, but other sources are saying that this isn't true and that everything was just a big misunderstanding.
Here's the video of the anti-police activist attacking Don Bolduc (R) as Bolduc was walking to the #NHSen debate. The activist has a YouTube channel full of videos in which he purposely gets into confrontations with police👇pic.twitter.com/OxduyP0rne

— RRH Elections (@RRHElections) November 3, 2022
Bolduc, according to some, wasn't truly assaulted.
A video showing the incident from various camera angles was provided by Karlyn Borysenko, a libertarian candidate for governor in New Hampshire, however even that footage seems to be a little hazy.
Videos appear to show someone charging Bolduc, who then appears obviously furious; however, it is unclear what more happened as a result of the cops rushing in.
New Hampshire's Republican Senate candidate Donald C. Bolduc was the victim of an attempted assault prior to Wednesday's debate against incumbent Sen. Maggie Hassan (D-N.H.), according to the GOP nominee and campaign officials. # # # # # # #https://t.co/63wgjIOCWa pic.twitter.com/FtEAox1gfR

— Mike Izzo (@izzorv6) November 3, 2022
It's time to bring down the political rhetoric in this nation, as the general mentioned on stage tonight.
A Bolduc campaign representative told Boston 25 News that before the debate, someone in the throng gathered outside tried to assault the general but was soon caught and taken into custody.
According to Bolduc's campaign, the perpetrator was apprehended and Bolduc was uninjured.