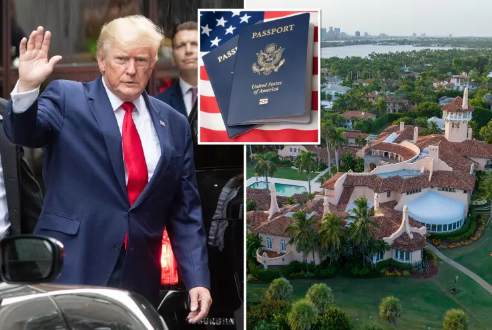 In his most shocking accusation yet against federal law enforcement, former president Donald Trump said on Monday that FBI agents stole his passports last week during a raid on his Mar-a-Lago estate in Palm Beach, Florida.
A search of Trump's house within his opulent Mar-a-Lago club was conducted by FBI investigators on August 8 in relation to documents that were taken from the White House when Trump left office in January 2021.
According to documents that were disclosed on Friday, the Justice Department is looking into whether Trump violated three laws relating to public records, including the 1917 Espionage Act, which has recently been used to support harsh punishments, including those against whistleblowers.
Passports are typically seized when authorities suspect someone of being a flight risk or of having criminal charges that would bar them from leaving the country.
Passports were not listed in the inventory of materials confiscated from the resort, but it did state that officials took 27 boxes, some of which held secret information, two picture albums, and a handwritten message, among other things.
Later on Monday, Trump's spokesperson Taylor Budowich tweeted an image of what seemed to be an email from a National Security Division employee of the Justice Department acknowledging that the division had taken the former president's passports.
The raid, according to Trump and his defenders, is only the most recent stage in a protracted witch hunt that began with the FBI's inquiry into whether he coordinated with the Russian government during the 2016 campaign.
The search was personally approved, according to Attorney General Merrick Garland, whose 2016 Supreme Court candidacy was rejected by Trump following his unexpected election victory.
Other than that, Garland and FBI Director Christopher Wray have not made many public statements in support of the operation.
Uncertain factors may have led to the unique FBI investigation, which apparently came after months of discussions between Trump's representatives and the government on the whereabouts and potential return of records.