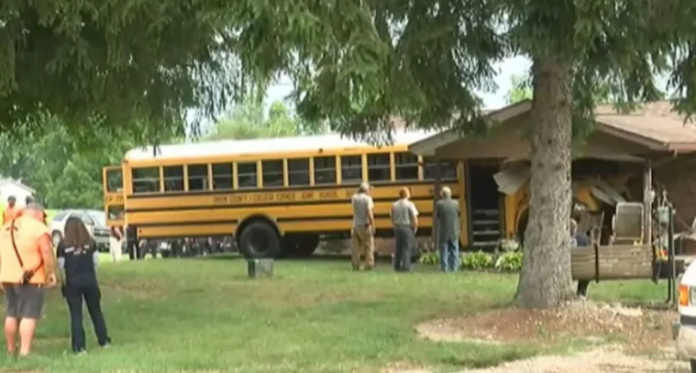 Early on Monday in Ohio, the driver of a school bus transporting 32 pupils apparently experienced a medical issue, according to investigators.
According to the Butler County Sheriff's Office, the event occurred while the bus was moving from Union County, Indiana, into Preble County, Ohio.
Around 7:40 am, near College Corner's 200 block of Ramsey Street, a bus carrying middle and high school children smashed into a house, according to officials.
The sheriff's office and Indiana State Police said that despite the accident causing significant damage, no pupils were hurt.
The bus driver was given life-saving treatment by emergency personnel before being taken to the hospital, according to the sheriff's office. There was no immediate information about the driver's health. When emergency personnel arrived at the site, the driver, 55-year-old Steven Posco, had had a heart attack and was unresponsive, according to the authorities.
The bus's front end was damaged and wedged beneath the porch of the house.
The Union County Sheriff's Office said that first responders were successful in removing the driver from the vehicle so they could start cardiac resuscitation.
For medical attention, he was brought to Reid Hospital in Richmond, Indiana.
According to fire authorities, one individual who was in the house at the time of the collision was unharmed.