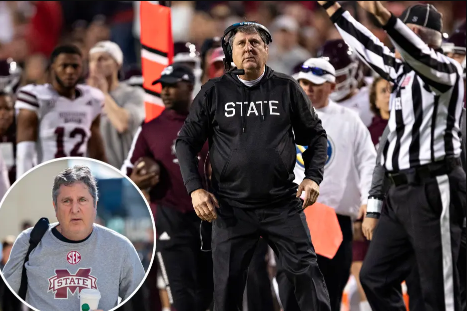 According to sources, Mississippi State football coach Mike Leach is in critical health after experiencing an unexplained medical incident.
National coaches expressed their support for Leach, an offensive genius who has led Texas Tech, Washington State, and Mississippi State to 158 victories as a head coach since 2000.
Mike Leach needs a miracle, folks. Continue to pray.

— Robbie Faulk (@robbiefaulk247) December 12, 2022
Please keep Mike Leach in your prayers tonight. We are thinking about Mike, his wife Sharon, and all of his family, friends and players

— Brian Kelly (@CoachBrianKelly) December 12, 2022
My thoughts are with my mentor, my colleague and, more importantly, my friend, Mike Leach. While I am devastated by today's news, I know Mike is a fighter with an incredible spirit and I know he will continue to battle. Prayers to Sharon and their extended family. 🙏🏼

— Dana Holgorsen (@Holgorsendana) December 12, 2022
Leach, 61, is said to have traveled 125 miles from his house to the University of Mississippi Medical Center.
Since the 1980s, Leach has been a college football coach after starting off as an assistant at Cal Poly. He is renowned for his work on the air raid strategy, a pass-heavy offensive scheme that frequently uses four wide receivers and the quarterback in shotgun formation, runs quick plays, and poses a deep crossing threat to the defense.
Before earning his first head coaching position at Texas Tech in 2000, Leach operated the air raid in the late 1990s while serving as the offensive coordinator at Oklahoma and Kentucky. He stayed in Lubbock for ten years, guiding the Red Raiders to a bowl game each year he was in charge.
Due to allegations of maltreatment by a former player, Leach was sacked by Texas Tech at the conclusion of the 2009 campaign. Later, he filed a wrongful termination lawsuit against the school, but most of his arguments were rejected.
In 2018, he coached graduate transfer and future NFL quarterback Gardner Minshew at Washington State, where he served as head coach from 2012 to 2019. In that season, the Cougars went 11-2 and set a school record for victories.
Leach joined the SEC in 2020 as Mississippi State's head coach. Since taking over, he has a 19-17 overall record and an 11-15 conference record.
Mississippi State, who finished 8-4 overall in 2022, will play Illinois in the 2023 ReliaQuest Bowl on January 2.