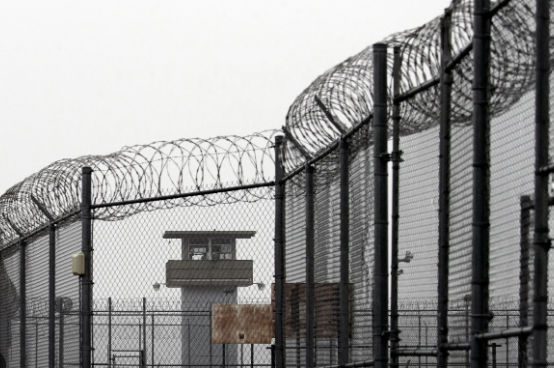 Two individuals from Tennessee, who had a record of evading authorities, were captured again shortly after their escape from a county jail. Ronnie Sharp, aged 48, and Joshua Harris, aged 40, managed to open the ceiling of their cell in Henry County Jail, crawl through a skylight on the roof, and flee the prison premises on Monday, as reported by the sheriff's office. It is believed that the two men then stole a conspicuous white Chevy pickup from 2006 to prolong their brief period of freedom.
The duo, who were considered armed and dangerous while they were on the run, were immediately added to the Tennessee Bureau of Investigation's Most Wanted list.
However, Harris's escape was short-lived as he was located on Monday, only 8 miles away from the jail, thanks to a citizen's report of sighting him in the vicinity.
Sharp, on the other hand, managed to elude capture until the next day when he was found in a neighboring county, approximately 30 miles away. Following a brief foot chase, Union City police apprehended the fugitive and held him in their jail overnight before returning him to Henry County on Wednesday morning.
On Tuesday, the TBI announced that the stolen truck was discovered abandoned in Kentucky, where Sharp resided before his incarceration in Tennessee.
According to the police, Sharp is currently incarcerated and facing several pending charges, including kidnapping, aggravated assault, assault on an officer, evading arrest, theft of property, and burglary.
In July of the previous year, Sharp was reportedly engaged in several high-speed chases, involving multiple stolen vehicles, spanning an 11-day period while trying to evade an arrest warrant for his failure to appear in court. This information was reported by the Murray Ledger and Times.
Ultimately, he was apprehended after allegedly breaking into a residence in Tennessee while the homeowner and his children were present. During a physical altercation, Sharp is accused of biting the homeowner, who managed to subdue the fugitive by restraining him in a chokehold.
At the moment of his disappearance, he had outstanding warrants in Kentucky for a range of offenses, such as meth possession, car theft, reckless driving, receiving stolen property, and various other charges.
Harris is currently serving a sentence for violating his previous sentence, but law enforcement also noted his past involvement in evading arrest, theft of property, and burglary.