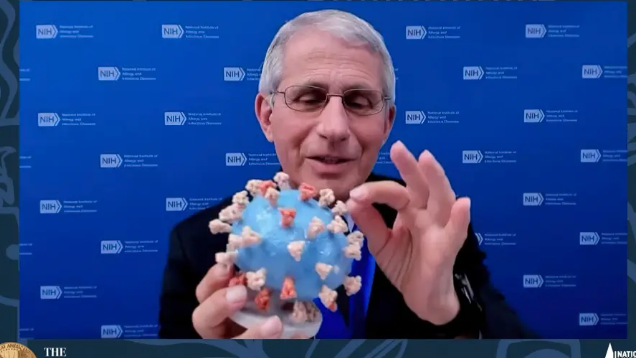 Dr. Anthony Fauci has secured employment at Georgetown University, assuming the role of a highly esteemed university professor within the institution's infectious disease department.
"We are deeply honored to welcome Dr. Anthony S. Fauci, a dedicated public servant, humanitarian and visionary global health leader, to Georgetown. Dr. Fauci has embodied the Jesuit value of being in service to others throughout his career, and we are grateful to have his expertise, strong leadership and commitment to guiding the next generation of leaders to meet the pressing issues of our time," on Monday, Georgetown President John J. DeGioia expressed his statement.
After a career spanning over five decades in the federal government, Dr. Anthony Fauci, aged 82, resigned from his positions as the director of the National Institute of Allergy and Infectious Diseases and as President Biden's chief medical adviser towards the end of last year. Now, in his new role as a distinguished university professor at Georgetown University, he will be based in the university's medical school.
In this capacity, he will contribute to the clinical care, research, and training of aspiring physicians in the field of infectious diseases. Additionally, Dr. Fauci will also have an appointment in Georgetown's school of public policy. This appointment recognizes him as one of the most esteemed professionals at the university.
"I am delighted to join the Georgetown family, an institution steeped in clinical and academic excellence with an emphasis on the Jesuit tradition of public service. This is a natural extension of my scientific, clinical and public health career, which was initially grounded from my high school and college days where I was exposed to intellectual rigor, integrity and service-mindedness of Jesuit institutions," Fauci's statement, which was issued by the university, indicated.
Fauci, who tied the knot with his wife at the chapel of the university where she graduated from Georgetown, further stated that it was an easy decision for him to become a part of the Jesuit school's faculty.
Fauci gained recognition as a member of the coronavirus task force under former President Donald Trump during the initial stages of the pandemic. Some individuals aligned with right-wing politics have accused the former head of NIAID of providing inaccurate information to the public regarding mask effectiveness and advocating for school lockdown measures that adversely impacted students. Ron DeSantis, the Republican presidential candidate and Governor of Florida, has alleged that Fauci lied about the origins of COVID-19 and has called for him to face consequences.