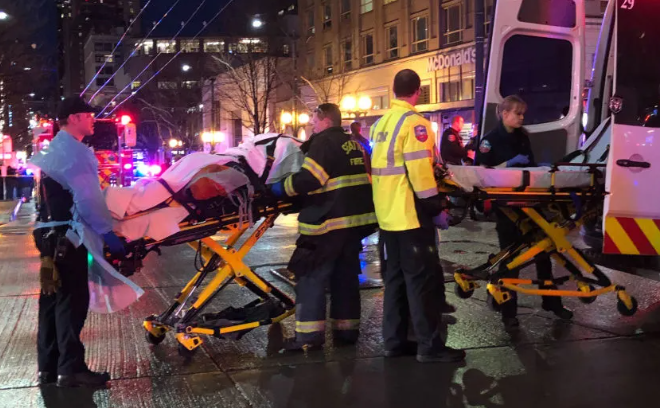 Seattle was rocked by many gunshots over the weekend, leaving at least seven people injured and one person dead.
A 21-year-old lady and a 27-year-old male were shot on Friday night at 11:20 p.m., according to the police. They were transported to Harborview Medical Center in good health.
Police quickly located a 14-year-old girl who had been shot in the leg in the SoDo district. Authorities were informed by witnesses that a pub had a shooting, and that the girl fled when she heard the gunshot. The girl was sent in serious condition to a nearby hospital.
In the shooting, at least four automobiles suffered damage. In addition to 12 guns, the police seized 80 pistol and rifle rounds from the private security guards who were on duty at the pub.
A male with gunshot wounds was found next to the basketball courts at Cal Anderson Park early on Saturday morning, minutes after police reacted to the bar shooting. After witnesses, police, and medical personnel attempted to render first aid, the guy was pronounced dead at the site.
At 3:17 in the morning in Seattle, another guy was discovered with two gunshot wounds. He was sent to the hospital in serious condition.
There were at least two gunshots on Sunday as well, according to tweets from the Seattle Police Department. In two different cases, a 16-year-old child and a 28-year-old man were both discovered with gunshot wounds to the shoulder.
Authorities were informed that a gang of males approached the victim, who was 28 years old and was riding in a vehicle. Police discovered 12-gauge shotgun bullet casings at the site after a conflict, when the suspects started to depart in their car, one of them fired a shot at the wounded victim.
The shootings take place while the crime issue in Emerald City worsens. The violent crime rate in Seattle hit a 14-year high in 2021, according to the city's year-end crime report for that year. Additionally, records of shots fired increased by 86% from 2019 and by 40% from 2020 in 2021.