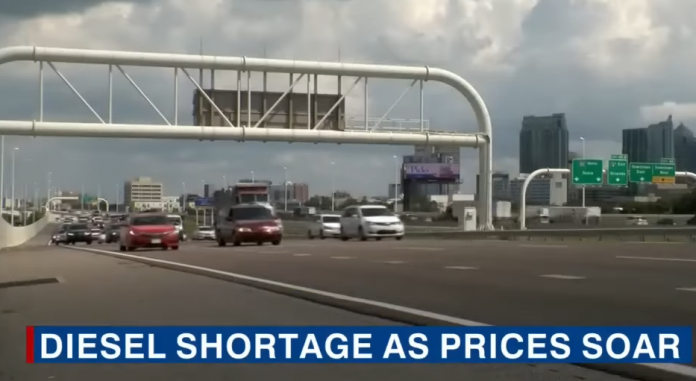 Concerns are being raised as the cold winter months approach due to a gravely low supply of diesel in the US and globally, which is projected to increase fuel prices and cause inflation.
According to Patrick De Haan, head of petroleum analysis at GasBuddy, distillate national numbers are quite tight.
"It's uncomfortable. That doesn't mean that you're going to see widespread outages, but if we get a bout of cold weather, things could be challenging."
According to analysts, a confluence of factors that have been simmering for some time are now coming to a climax as colder weather increases the seasonal demand for diesel, a fuel used to heat homes as well as power trucks and buses.
There is just enough diesel remaining in the country for roughly 25 days, which is an extremely low amount. According to De Haan, the country's supply typically ranges from the low to mid 30s in terms of the number of days left.
The nation's attention has been largely on the fluctuating price of fuel throughout the year.
Oil is used to make gasoline and diesel, and oil prices skyrocketed as a result of Russia's invasion of Ukraine.
Several factors have also put pressure on diesel markets.
According to Chowdhury, these elements include the pandemic's reduced refining capacity, rising demand during the COVID-19 recovery, and Chinese export limitations.
Demand for diesel recovered much more quickly than for other products. Refineries shut down all across the world, which made it difficult to supply. Finally, China, the largest supplier of diesel, was unable to export.
He continued, describing the recent rise in demand for jet fuel, which may have to fight with diesel at the refinery, and how all of those factors conspired to cause the globe to have a really low inventory.
He continued by saying that market inefficiencies were caused by the response to Russia's invasion of Ukraine, which led many European nations to steer clear of Russian goods.
ExxonMobil's CEO wrote to the White House last month, "Reducing global supply by limiting U.S. exports to build region-specific inventory will only aggravate the global supply shortfall."