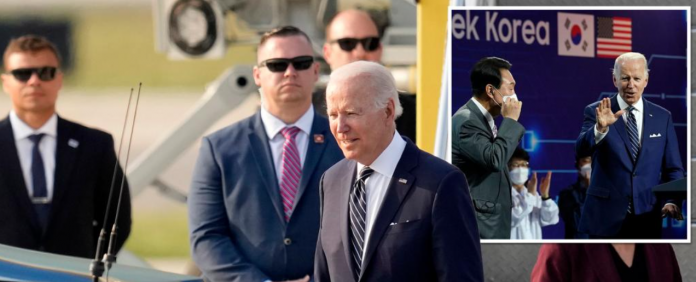 According to various accounts, two Secret Service employees were returned to the United States from South Korea this week after an alcohol-fueled altercation with a Korean cab driver ahead of President Biden's visit to the nation.
On a recent evening, an agent and an armed physical security specialist hired to help prepare for Biden's visit to Seoul went out to dinner and frequented various pubs.
The couple allegedly grew inebriated later that night, and the agent got into a furious altercation with the cabbie.
Only one of the two workers was allegedly probed in relation to the incident after police were summoned to the site.
The altercation occurred outside of the hotel where Biden is staying in Seoul.
According to Secret Service spokesperson Anthony Guglielmi, the agency is aware of an off-duty event involving two personnel that might result in policy breaches.
He went on to say that the two employees will be promptly restored to their jobs and placed on administrative leave.
The decision to send the employees home was reportedly made while Biden was en route to South Korea Thursday. Most notoriously, several agents were sent home from a 2012 presidential trip to Colombia for a series of offenses, including hiring prostitutes.
The president landed in South Korea on Friday afternoon, beginning off a five-day tour to Asia. Biden's first stop was a Samsung computer chip facility, where he was accompanied by South Korean President Yoon Seok Youl.
President Biden will fly to Tokyo on Sunday to meet Emperor Naruhito and Prime Minister Kishida Fumio before going to the summit on Monday with Australia, India and Japan leaders.