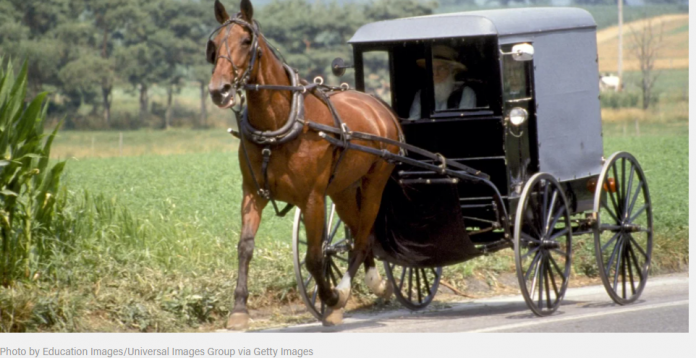 After crashing his horse and buggy into a police cruiser, an Amish man was detained and discovered sleeping next to a Bud Light can.
At around 2:30 a.m. on Saturday, the event occurred in Orwell, Ohio.
A horse and buggy was being driven recklessly when police received an emergency call.
The responding officer, Ashtabula Sheriff Deputy Mike Talbert, was wearing a body camera.
Talbert may be seen in the video attempting to get the horse and buggy to stop.
At another point in the film, Talbert says, "He just turned eastbound on Bogue, and I yelled at the guy when he rode by. I hit the side of the buggy and hollered at the guy because there was a Bud Light can sitting in the damn buggy."
According to other reports, the buggy was traveling on the opposite side of the road.
The cop informs dispatchers that he can stop the buggy at one point, but quickly corrects himself.
The buggy is seen hitting the police vehicle in the footage. The accident removed the driver off the buggy.
Nathan Miller was named as the suspect. He declined a field sobriety test, but a breathalyzer subsequently revealed a.063 percent.
Miller was charged with driving under the influence of alcohol. A small injury was also sustained by him. Both the police and the horse escaped injury.
The traffic stop, according to Ashtabula Sheriff William Niemi, was uncommon.