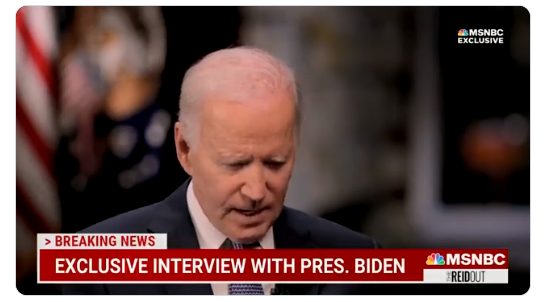 The president's recently revealed MSNBC interview moved the conversation about his capabilities in an inappropriate direction.
When questioned about running in 2024, Biden seemed to be experiencing a physical problem.
The president not only stops speaking, but for a brief moment, he also appears to be close to collapsing. The interviewer responds in a surprised manner, clearly thinking Biden was going to pass out because it was that horrible.
Scary clip

BIDEN: "It's my intention to run again."

MSNBC: "Dr. Biden is for it?"

BIDEN: crickets

MSNBC: "Mr. President?"

BIDEN: "Dr. Biden thinks that uh, my wife thinks that uh, that I uh, that, that we're, that we're doing something very important."pic.twitter.com/lPVyEi2kv3

— Steve Guest (@SteveGuest) October 21, 2022
You can notice that there was a cut in that part of the interview, giving the notion that the president may have been out of it for quite some time.
The president eventually fumbled through his response after the interviewer appeared to snap Biden back to consciousness. While doing so, he paced considerably slowly, and his difficulties persisted throughout the rest of the session.
The interview's date is a little hazy, but it could have occurred either before or after another occasion in which Biden accidentally spoke unintelligibly to a reporter in Pennsylvania.
Is Biden ok?pic.twitter.com/wnAOM47bkJ

— Daily Wire (@realDailyWire) October 21, 2022
There is undoubtedly something wrong with him, and those in the media who refuse to address it are now involved in hiding what seems to be a significant problem with the president's condition.
Nothing about Trump holding a glass of water with two hands will disguise the fact that this is highly disturbing information. Any reasonable person who is concerned about Biden's condition should be interested in what is in that video. We've all had our laughs in the past, but this point has been reached where it's no longer amusing. The presidency is not a job for someone who should be in a retirement home.