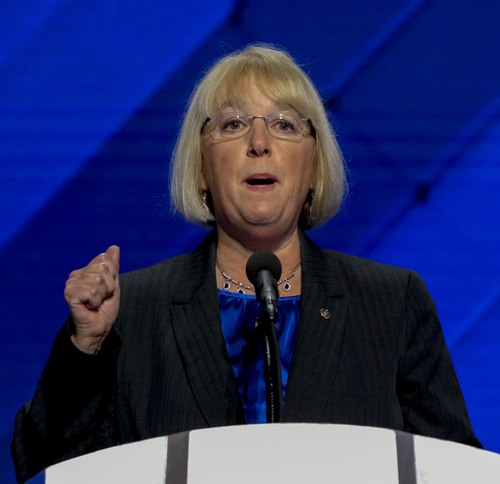 The Democrats are having a bad election year because many of them already know they will lose before the votes are even cast. Republican candidates are ahead across the country, and some incumbent Democrats will lose their seats.
Sen. Patty Murray is one of the incumbent Democrats who might lose their seats in the upcoming election, according to a recent Trafalgar Group survey. The Washington senator who has maintained her position for more than ten years may be forced to resign. According to a recent study, the incumbent senator may leave her position to support her Republican opponent, who appears to have greater clout in the region.
According to the statewide poll, if the election were held right away, both contenders would have a very close fight, and the winner would only have a slim lead. Polls showed a statistical tie between the two candidates, indicating that Murray's opponent Smiley is capable and well-liked by Washingtonians.
New @trafalgar_group
#WASen #Poll (9/21-9/24) shows incumbent #Murray still holding small lead, but challenger #Smiley gaining. #wapol

48.7% @MurrayCampaign
46.5% @SmileyForWA
4.8% Und

See Report: https://t.co/Vafee0lWPg pic.twitter.com/fu00kjizZR

— Robert C. Cahaly (@RobertCahaly) September 26, 2022
If Smiley's influence keeps growing, the Republicans would have no trouble winning the upcoming elections and adding another seat to their total in the Senate.
A few weeks earlier, a Trafalgar Group survey saw Murray leading the Republican 49.2% to 46.3%, which was likewise a very close result given Murray's prominence in the state. The new survey indicates that the Republican has met the challenge, and her continuous ascent indicates that Murray might have serious difficulties in the general election in November.
On the John Curley and Shari Elliker program, Smiley claimed that Murray is a power-hungry individual who has spent years attempting to hang onto a position as though it were her inheritance.
🚨NEW AD🚨Patty Murray's soft-on-crime record has cost lives and livelihoods. I will work hard to bring an end to the crime crisis, and deliver hope for Washington's crime victims! pic.twitter.com/gWyco1JfgN

— Tiffany Smiley (@SmileyForWA) September 20, 2022
According to the decline in Murray's popularity as more people back the new opponent with greater things to give, it appears that the people of Washington also think she has accomplished enough.