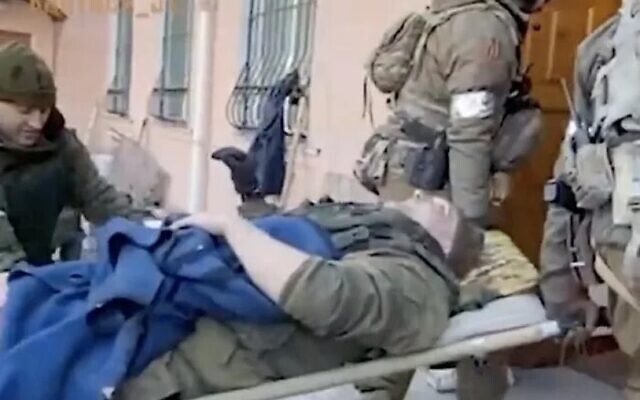 A Russian colonel was run over and executed by his own men, likely in retaliation for the unit's severe battle casualties, a Western security official told reporters on Friday.
According to the official, the incident took place in Russia's 37th Guards Motorized Rifle Brigade, which was fighting west of Kyiv.
The Western confirmation comes after a video of the colonel, named as Yuri Medvedev, being evacuated by Russian soldiers on a stretcher was broadcast on Wednesday by famous Ukrainian journalist Roman Tsimbalyuk.
According to Tsimbalyuk, the incident occurred after the unit had experienced over 50% losses. Medvedev's legs were crushed, according to him, and he was flown to Belarus for treatment.
The western official also corroborated Ukrainian allegations that the commander of the 49th Combined Arms Army, Lieutenant General Yakov Rezantsev, had been killed in the combat.
Since the invasion began a month ago, Rezantsev was the seventh Russian general to be killed in combat.
General Magomed Tushaev, a member of the Chechen Special Forces deployed in Ukraine by Russian President Vladimir Putin, is among those believed to have been murdered.
Meanwhile, General Vlaislav Yershov of the Russian Army's 6th Combined Arms Army has been named as the general ousted by the Kremlin earlier this week.
🇷🇺 commander of the 37th Separate Guards Motor Rifle Brigade, colonel Yuri Medvedev was run over by a tank of his own unit after casualties in 🇺🇦. In 2021 one of his tank commanders won the 🇷🇺 national tank teams competition. pic.twitter.com/lvaTnwvEZ4

— Eerik N Kross (@EerikNKross) March 24, 2022
The number of Russian soldiers and senior commanders purportedly slain in the month-long conflict has astounded Western military and security professionals.
It was partly blamed on communications and logistics problems, which led top officers to use unencrypted connections, exposing them to Ukrainian forces.
The Kremlin stated on Friday that just over 1,300 military men have been killed in the conflict, but Western capitals believe estimates of four or five times that number are believable.
Due to the casualties, officials believe that roughly 20 of the 115-120 battalion tactical units sent by Moscow in Ukraine are "no longer combat effective."