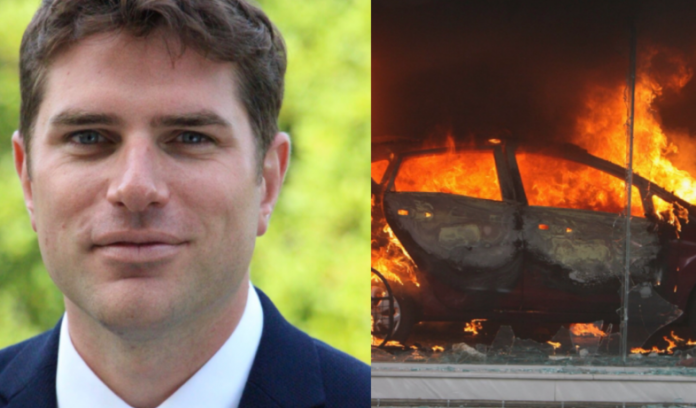 After a 17-year-old French-Algerian kid was shot by an officer, France experienced its fifth straight night of severe rioting, burning, and attacks on police. According to a report from the French newspaper Le Figaro, while Vincent Jeanbrun's wife and young children were inside, rioters attempted to set fire to his home in the Paris suburb of L'Ha-les-Roses.
"My wife and children in shock and hurt," the mayor wrote in a social media post shortly after 2 a.m. local time. The tweet was soon deleted, though members of the mayors staff later confirmed details of the attack to Le Figaro.
In the days before the attack, scores of government buildings had been attacked with Molotov cocktails and other explosives, prompting Jeanbrun to order the town hall to be guarded with barbed wire. He was present at the town hall throughout the attack. To stop the violence on Saturday, the mayor had also urged the French government to impose a state of emergency.
Seven police officers and barbed wire were used to secure the town hall, however, no police were stationed at the mayor's residence.
A "group of hostile people" assembled in front of the mayor's house, where his wife and young children were, shortly after midnight. When the garden gate was breached by the rioters, they lit it on fire "with the clear intention of setting fire to the mayor's home," according to Jeanbrun's employees, who spoke to Le Figaro.
Then, once the couple's young children had left the building, Jeanbrun's wife did as well and was hurt as the rioters chased them. The mayor's wife managed to get out and was taken to a nearby hospital, where she reportedly spent the night "in a safe place."
The mayor later confirmed the attack in a press release Sunday morning. "Last night, a milestone was reached in horror and ignominy. My home was attacked and my family was the victim of an assassination attempt," Jeanbrun wrote. "My determination to protect and serve the Republic is greater than ever. I will not back down."
One of Jeanbrun's children was also hurt in the assault, he continued.
Cette nuit, un cap a été franchi dans l'horreur et l'ignominie. Mon domicile a été attaqué et ma famille victime d'une tentative d'assassinat.

Ma détermination à protéger et servir la République est plus grande que jamais. Je ne reculerai pas. #PasPourRien #Emeutes ⤵️ pic.twitter.com/9HW1eAFCXN

— Vincent Jeanbrun (@VincentJeanbrun) July 2, 2023
‼️ [ 🇫🇷 FRANCE ]

🔸 Vidéo du domicile de Vincent Jeanbrun, Maire de l'Haÿ-les-Roses, attaqué à la voiture bélier. L'élu affirmait sur Twitter que sa femme et ses enfants avaient été blessés. Son véhicule personnel a brûlé lors de l'attaque. (📷 @ClementLanot) pic.twitter.com/sDyxd3IbnA

— (Little) Think Tank (@L_ThinkTank) July 2, 2023
Éric Zemmour, a populist politician and past presidential contender, extended the mayor his support and demanded that the "savages" responsible for the attack on his home be brought to justice. "A milestone has yet been crossed. These savages dared to touch his family, because he has the only fault of being mayor and therefore of representing France," Zemmour wrote. "All my support for Vincent Jeanbrun, mayor of L'Haÿ-les-Roses."
Un cap a encore été franchi. Ces sauvages ont osé toucher à sa famille, parce qu'il a le seul tort d'être maire et donc de représenter la France. Tout mon soutien à Vincent Jeanbrun, maire de L'Haÿ-les-Roses. #emeutes https://t.co/450pqMBYhe

— Eric Zemmour (@ZemmourEric) July 2, 2023
Over 400 more people were detained by French police overnight Saturday as the riots, which were primarily caused by migrants from Africa and the Middle East, went on for a fifth straight night. In total, 1,300 people were arrested the previous night while more than 45,000 police officers were stationed in various cities and towns around the country.
According to a story from the Daily Mail, authorities claimed that more than 3,800 flames broke out on public highways on Friday night while more than 500 buildings were burned down.
On Friday, French Interior Minister Gérald Darmanin did not rule out the possibility of an emergency declaration. "Quite simply, we're not ruling out any hypothesis and we'll see after tonight what the President of the Republic chooses," he said.