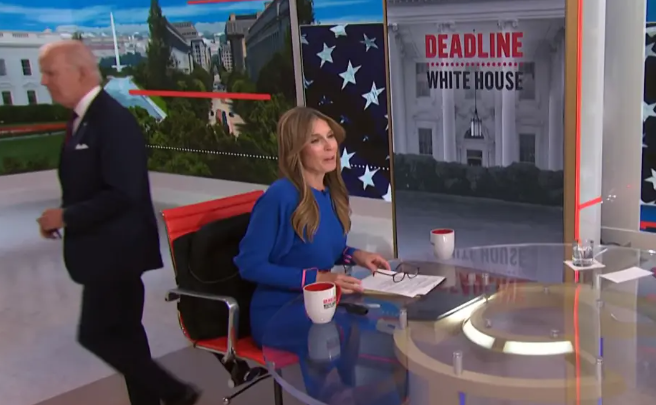 On Thursday, President Biden deviated from the set of a live television interview on MSNBC even before the show paused for a commercial break. Despite the cameras still recording, Biden rose from his seat, exchanged handshakes with host Nicolle Wallace, and somewhat awkwardly departed after she expressed gratitude for the rare opportunity to interview the 80-year-old president.
While Biden exited, walking directly behind Wallace, she reassured viewers, saying, "Don't go anywhere." It is uncommon for guests to leave cable news show sets before the host transitions to a commercial break. The video clip of Biden's departure, seemingly unaware that the program was airing live, swiftly gained popularity online.
"WHAT ON EARTH IS JOE BIDEN DOING? It's live TV!" Republican National Committee staffer Steve Guest said in a tweet.
"The Biden Presidency in one clip," In a tweet where he shared the video, ex-Republican Governor of Wisconsin, Scott Walker, expressed his thoughts on the matter.
Speculations arose suggesting that the oldest president in US history was in a hurry to reach a specific destination. Throughout the 20-minute interview, the president addressed the recent Supreme Court ruling that declared affirmative action in college admissions as illegal. He expressed his viewpoint that a significant portion of the American population disagrees with many of the decisions made by the current court.
Biden, on the other hand, refrained from fully supporting the idea of Democrats expanding the number of judges on the court with a liberal inclination.
"If we do start the process of expanding the court, we're going to politicize it maybe forever in a way that is not healthy."