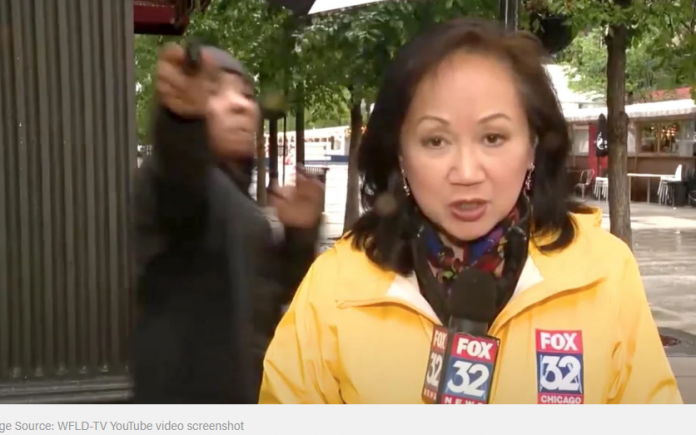 The man who pointed a pistol at a television team during a live broadcast from the streets of Chicago, Illinois, regarding the surge in crime is being sought by police.
At around 7 a.m., Joanie Lum of WFLD-TV was reporting from the corner of Clark and Hubbard when a man behind her back aimed what seemed to be a pistol at the camera.
The man is seen dancing away and brandishing the pistol at something else in the footage.
He has been designated as a person of interest by Chicago police, and they are seeking to identify him. He's been charged with aggravated assault with a weapon.
Joanne Lum was naturally disturbed by the situation, since the pistol was pointed at the camera or photographer Gary from one foot away.
WFLD revealed another video of the suspect strolling in the same location with cups of coffee in his hands in a subsequent story about the event.
Some people witnessed the incident live on broadcast and took to social media to express their support for Lum.
According to CWN Chicago, police responded to a complaint regarding a guy matching the suspect's description who was making a disturbance at a Starbucks coffee shop just a few streets away. They are uncertain if the two instances are linked.
In comparison to the same period previous year, the number of murders and gunshots in downtown Chicago has increased by 64%. Chicago Mayor Lori Lightfoot, a Democrat, expressed her displeasure with the rising violence.