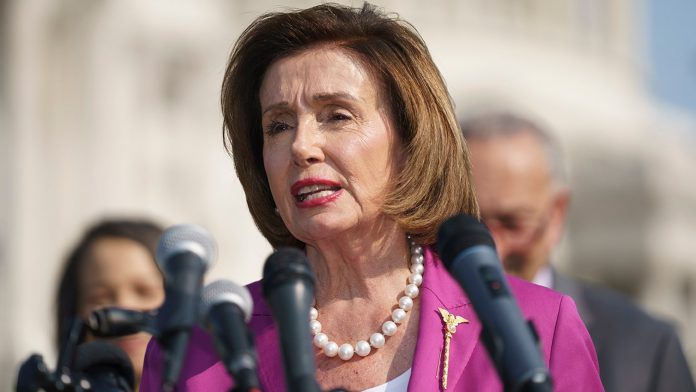 Nancy Pelosi, House Speaker, called Kevin McCarthy a "moron" Wednesday when he was asked about his comment that mask mandates for vaccinated people are against the science.
McCarthy stated Tuesday that the threat of bringing back masks is not a decision based upon science but was a decision made by liberal government officials who wish to continue living in a perpetual pandemic. McCarthy's statement came in response to new Centers for Disease Control and Prevention guidance.
Asked to react to McCarthy's comment Wednesday, Pelosi responded: "He's such a moron."
McCarthy and Pelosi have a uniquely hostile relationship, as demonstrated by the Pelosi comment. In a tweet, her chief spokesperson doubled down on the "moron" comment.
"Unfortunately, we can't verify this audio because of poor quality, but I can confirm that the Speaker believes that saying a mask requirement is 'not a decision based on science' is moronic," spokesman Drew Hammill stated.
McCarthy responded Wednesday by pointing out what he said are incongruities in the decision to mandate masks, particularly in the Capitol.
"Well, if she's so brilliant. Can she tell me where the science in the building changes between the House and the Senate?" McCarthy said. "Can she explained to me when the CDC says only vaccinated people need to wear a mask in hotspots … [D.C. is] not with more than 86% of vaccination within here. Can she explain to me the less than 1% affected there. So it's a lot of questions if she knows so much science explain to me where the science changes in the rotunda."
Pelosi's comment also reflects disagreement about whether the new CDC guidance was wise, especially since the U.S. wants to encourage more people to become vaccinated. Vaccines have been shown to nearly eliminate COVID-19-related death, severe illness, hospitalization, and even massively lower transmission of the virus.
Rochelle Walensky, Director of the CDC, announced Tuesday that she now recommends that people who live in high COVID-19 cases wear masks indoors. Walensky explained that this is because, in rare cases, people infected by the delta variant of the virus after vaccination could transmit the virus to others.
This announcement prompted Capitol Attending Physician Brian Monahan, to issue a mandate for masks in the House of Representatives offices and chamber. Pelosi stated Wednesday that Monahan decided to mandate masks for House staff without her input.
"That's the purview of the Capitol physician," she said, "a mandate from him. I have nothing to say about that except we honor it with our masks."
Monahan was not the only one to issue a mandate for a mask in the wake of the new CDC guidance. On Tuesday, mandatory mask signage was visible at the White House.
Nevada Gov. Nevada Governor. Quinton Lucas, Kansas City's Mayor, announced Tuesday night that he would issue a mandate for his city to wear a mask.
In the wake of this guidance, it is likely that there will be many more mask mandates from states, cities, and counties. It's unclear when these orders and recommendations will be canceled, at the Capitol or elsewhere.