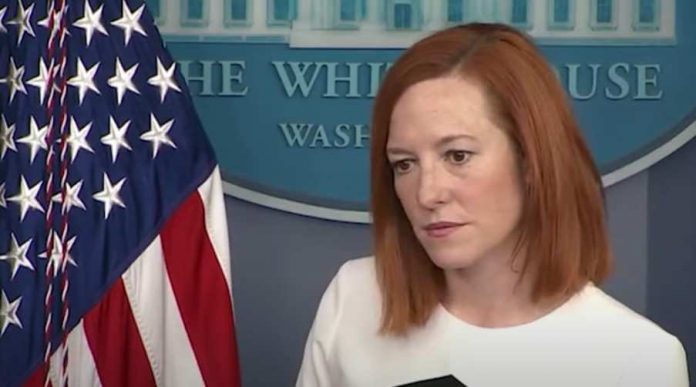 When will the COVID dictatorship end? Why can't the current administration, and its cronies at the CDC, allow people to finally breathe?
Nearly 70% of Americans have had at least one shot against the coronavirus. This makes heard immunity possible amid growing concerns about the "variants" and increasing fears. The Biden administration is now surrendering in an attempt to keep Americans afraid and reliant on federal government assistance.
Just as we thought that the end was near, just when the country started the healing process over the past year and a quarter, the Biden administration decides to squash it.
Jen Psaki, White House press secretary, appeared to be on edge as her attempts to distance Joe Biden from past comments about the efficacy and futility of masks for people who have received them. She tried to forget the "president" telling Americans that they don't need masks. Science isn't as important as the Biden administration may think.
The very moment the Center for Disease Control and Prevention updated their recommendations for indoor masking, Biden immediately fell on the sword and surrendered. This just goes to show how out of touch the current administration is.
The new guidance will instruct those who have been vaccinated in areas that have more than 50 cases per 100,000 residents to use masks indoors and in public. It is expected that the guidance will also instruct teachers and students working in K-12 schools to use masks on campus at all times.
Psaki gritted her teeth as she was forced to defend the new CDC directive.
PETER DOOCY: "If vaccines work…then why do people who have the vaccine need to now wear masks?"

PSAKI: "The public health leaders in our Administration have made the determination, based on data, that that is a way to make sure they're protected" pic.twitter.com/KuRlLaK188

— Benny (@bennyjohnson) July 27, 2021
Pressed on Biden's comments announcing the May CDC guidance update, in which he emphatically stated that vaccinated individuals no longer need to wear masks in public, Psaki stressed that the president also "made clear that it was not over, that those who were unvaccinated were still at risk."
She claimed that the intentions of the Biden administration as well as the CDC were to "save live" despite the fact that deaths continue to fall and cases remain at a near-pandemic low.
CNN's @kaitlancollins asks WH Press Sec. Jen Psaki about the 8+ states with laws prohibiting mask mandates in schools, in light of upcoming CDC announcement recommending masks in schools.

Psaki says she's "happy" not to live in one of those states. pic.twitter.com/91rsO25tFH

— The Recount (@therecount) July 27, 2021
Watch Tuesday's complete briefing here below.