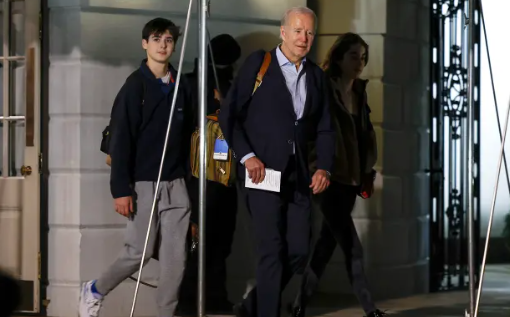 At least 65 people have died and 10,000 flights have been delayed since Christmas Eve due to the extreme cold and snowfall that has affected parts of the country since that day. President Biden left the White House on Tuesday night for a tropical holiday in St. Croix to ring in the New Year.
At a three-bedroom beachfront villa with panoramic views on the biggest of the US Virgin Islands, the 80-year-old commander in chief will soak up the Caribbean sun close to an in-ground pool.
In the meantime, single-digit weather continues to cause traffic mayhem, massive power outages, and an increase in fatalities across the Midwest and East Coast, but especially in western New York, where 32 people died in Buffalo's Erie County amid more than 4 feet of snow.
Although Biden has a history of staying for free at the homes of affluent Democratic supporters, it is unknown who owns the vacation home or whether he will be paying for his stay.
When approached by the real estate firm that handles leasing, the homeowner declined to give their name or confirm if Biden will pay.
Along with his wife, first lady Jill Biden, two of his grandchildren, Natalie and Hunter, as well as first daughter Ashley Biden and her husband, Howard Krein, Biden boarded Air Force One. It's unknown if other family members, such as the first son Hunter Biden, who has been dogged by scandal, are traveling as well.
Throughout previous trips to the US territory while serving as vice president, the president stayed at the same St. Croix home.
According to local news sources, Biden visited St. Croix at least five times between 2014 and 2016, and at least once more to celebrate New Year's Day less than four months before he officially launched his presidential campaign in 2019.
The oldest president in history announced last month that, after he and the first lady have had some time to actually sneak away for a week, he wants to make a final choice about whether to run for re-election in early 2023.
During a Thanksgiving trip to Nantucket Island, Biden assured reporters that he was not discussing the year 2024 with his family while staying at the estate of private equity billionaire David Rubenstein, where he had previously stayed twice as president, likely for free.
Due to the large wave of illnesses brought on by the Omicron variety of COVID-19, Biden had to cancel his trip to adjacent Puerto Rico during his first winter as president, which was planned in part due to the anticipated pressure on security and press on the tiny Virgin Islands.
If Biden gets the complimentary hotel stay in St. Croix, he must mention it on his yearly financial disclosure forms, which are made public in May. The president and vice president are required to mention any complimentary stays costing more than $390 on the form. The "personal hospitality" reporting exception on that form, according to ethics experts, does not apply in situations where the homeowner is not present.