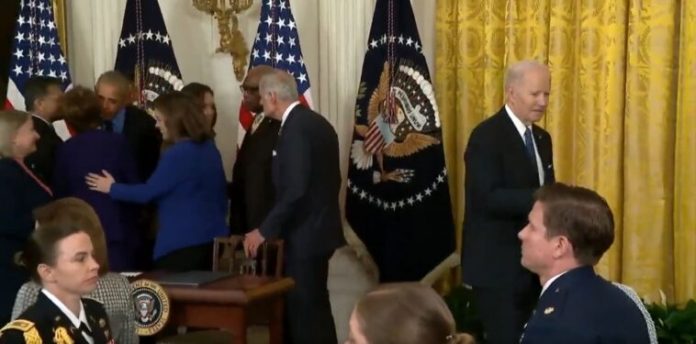 On Tuesday, former President Barack Obama triumphantly returned to the White House and instantly reclaimed his place as the center of the Democratic world.
President Joe Biden remarked of having his former boss back in the White House, "It seems like the good old days."
In his opening comments, Obama introduced "Vice President Biden" before correcting himself.
And then he shouted ecstatically, "That was a joke!"
"I admit that since my last visit, I've heard that the current President has made some adjustments." Secret Service agents are now required to wear aviator sunglasses, according to reports. A Baskin-Robbins has taken the place of the Navy Mess. And there's a cat on the loose."
POTUS: "My name is Joe Biden, I'm Barack Obama's Vice President — and I'm Jill Biden's husband." pic.twitter.com/fmPquwJawm

— Breaking911 (@Breaking911) April 5, 2022
For his part, Biden made light of becoming Barack Obama's Vice President.
Joe Biden, on the other hand, was not feeling the love from his fellow Democrats, wandering aimlessly as Barack Obama soaked up all the attention.
It was a terrible sight to see Speaker Nancy Pelosi, Democratic Senator James Clyburn, and even his own vice president, Kamala Harris, rubbing elbows with Barack Obama while Biden pleaded for personal attention in vain.
A heartbreaking look of loneliness and the stress lines that come with being the most powerful man in the free world can be seen on the president's face. Or, at the very least, the man who ought to be.