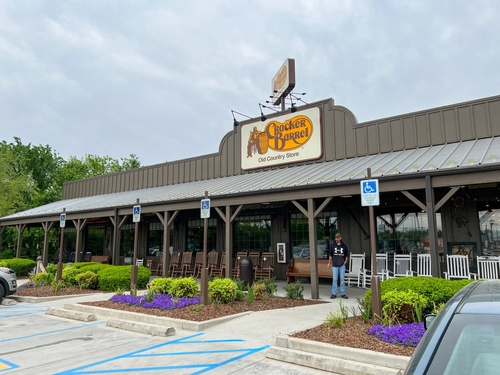 Today, Cracker Barrel is regarded as one of the most well-liked restaurant businesses in America. Many people visit there for a variety of meals, particularly breakfast, which is available every day all day.
Additionally, Cracker Barrell enjoys a particularly strong following among fans of southern cuisine. There are plenty of alternatives on the menu, which helps the fast-food restaurant maintain a loyal consumer base.
Cracker Barrel: Where pork-based and plant-based sausage lovers can breakfast all day in harmony. pic.twitter.com/be4dx5toQ4

— Cracker Barrel (@CrackerBarrel) August 4, 2022
The retail space that is connected to each of Cracker Barrel's restaurants is a significant accomplishment.
The eatery has declared its intention to expand its menu with plant-based sausage. This angered several people, who accused the business of becoming more woke.
Cracker Barrel has made the decision to capitalize on the rising demand for vegetarian, vegan, and plant-based diets by introducing plant-based sausage to its menu.
The restaurant explicitly emphasized in this statement that the classic pig sausage will still be available to all meat-lovers. The business nevertheless faced considerable criticism.
Are people really triggered that #CrackerBarrel is offering plant-based sausage?? Just don't order it if you don't want it. They intrigued this vegetarian, I may have to eat there soon! On behalf of veggies everywhere, #ThankYou CB!

— Alison (@alisonvk) August 5, 2022
Cracker Barrel was criticized for being woke during a period of heightened culture warfare because it dared to offer plant-based cuisine on its menu. People who were upset about this new menu item voiced their complaints on social media sites like Facebook and Twitter.
Other respondents, however, applauded the business and stated that this new addition will encourage them to eat at Cracker Barrel.
Cracker Barrel recently issued a statement to the press outlining the factors that led the business to make this decision in response to the conflicting responses.
The restaurant claims that it is always working to improve the morning experience and the variety of foods it offers patrons.
Additionally, Cracker Barrel made a point to emphasize that the addition of plant-based sausage does not mean that meat-based sausage would be eliminated.
The only thing this new menu accomplishes is increase the variety of selections and encourage more customers to visit the restaurant.
Conversely, people who dislike plant-based meals are more much entitled to skip ordering it. It is quite evident from Cracker Barrel's public statement that the business won't be changing its mind on introducing plant-based sausage to the menu.
This topic briefly became viral online on Friday, drawing comments from Americans with a wide range of opinions.