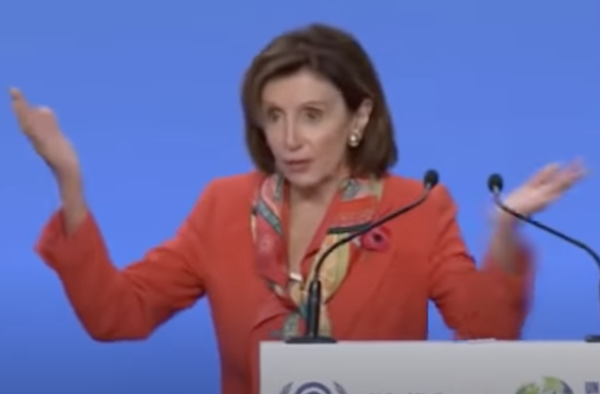 After introducing Democrats to the 2021 United Nations Climate Change Conference Conference, Nancy Pelosi, Speaker of The House, scolded the crowd for failing to clap in support of her and the other representatives.
When the embarrassing moment occurred, the Speaker was introducing several legislators.
"Good afternoon, everyone," Pelosi started. "Uh it is really an honor to be here with our Distinguished Delegation from the House of Representatives. I want them all to stand so you can see who they are. Congressman Earl Blumenauer, McCallum, McCollum, Pingree, Keating, Bonamici, Brownley, Huffman, Lowenthal, Beyer, Boyle, Espaillat, Casten, Escobar, Ocasio Cortez, Levin Negus."
"Uh thank you all for being here," Pelosi said as the crowd stayed completely silent. "Uh today, we will hear and that's an applause line in case you didn't know. We can applaud ourselves. We applaud ourselves."
WATCH IT HERE:
Democrats were embarrassed by the climate event. Former President Barack Obama mixed up Ireland with Scotland at one time.
Take a look at what Fox News has reported.
On Monday, President Barack Obama mixed Scotland and Ireland when he addressed the COP26 conference at Glasgow.
Obama used a common name for the wrong country to refer to the location at the United Nations climate conference held in Scotland.
"Since we're in the Emerald Isles here, let me quote the bard, William Shakespeare," Obama said. "'What wound,' he writes, 'did ever heal but by degrees.'"
The term "Emerald Isle" refers to Ireland, not Scotland or other countries in the United Kingdom. On top of that, Shakespeare is England's national bard, not Scotland's. That honor goes to Robert Burns, author of poems and songs, including "Auld Lang Syne."
Obama's quote was directed toward the young people in the audience, telling them that combating climate change is "a marathon, not a sprint," and that while they should "stay angry" and "frustrated," they should know that "solving a problem this big, this complex and this important has never happened all at once."
The former President also advised young people to press lawmakers to take action against climate change.
"Vote like your life depends on it, because it does," he said.