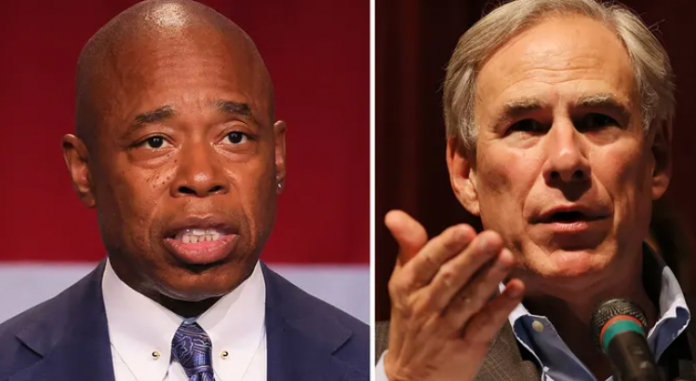 Following the arrival of a second bus carrying illegal immigrants at his door on Sunday, New York City Mayor Eric Adams criticized Texas Governor Greg Abbott.
At a press conference held on Sunday morning at the Port Authority, Adams welcomed a bus carrying about 40 refugees, just 14 of whom got off in the Big Apple.
Adams said that a lot of the incoming families were unaware that they were traveling to New York City, "This is horrific when you think about what the governor is doing. We're finding that some of the families are on the bus that wanted to go to other locations, and they were not allowed to do so," the mayor said. "They were forced on the bus with the understanding that they were going to other locations that they wanted to go to, and when they tried to explain they were not allowed to do so."
.@GregAbbott_TX used innocent people as political pawns to manufacture a crisis. New Yorkers are stepping up to fix it — that's our city's values.

But we need the federal government's help — money, technical assistance and more. pic.twitter.com/cOdXrULpcC

— Mayor Eric Adams (@NYCMayor) August 7, 2022
His remarks come after the initial arrival on Friday of about 50 migrants at a Port Authority in New York City. Abbott, who has been sending border-crossers to liberal areas to draw attention to the problem of illegal immigration in his own state, gave the order for the bus to come.
Adams has charged the governor of fabricating a crisis by employing defenseless people as players in a political game.
On Sunday, he expressed dissatisfaction over Abbott's administration's failure to adequately notify New York City of the refugees' impending arrival.
Since April, Abbott has also started deploying undocumented workers to protest the Biden administration's inaction on the Texas border situation in Washington, DC.
"In addition to Washington, D.C, New York City is the ideal destination for these migrants, who can receive the abundance of city services and housing that Mayor Eric Adams has boasted about within the sanctuary city," Abbott said.