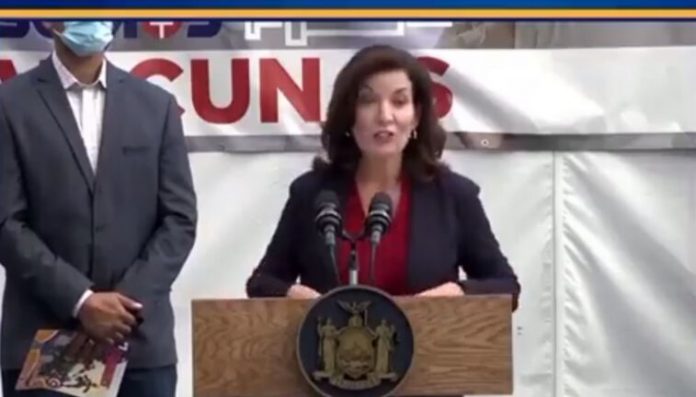 Kathy Hochul, New York's new tyrannical governor, is creating a shortage of medical workers through a mandated vaccine. This is forcing many medical workers to quit. Hochul announced Monday that she plans to partially ease the shortage by recruiting National Guard medical personnel.
BREAKING: New York Governor Kathy Hochul says she will deploy medically trained National Guard troops to replace unvaccinated healthcare workers in hospitals, who will be fired tonight. pic.twitter.com/79Vr8ZUefd

— Breaking911 (@Breaking911) September 27, 2021
"We're taking all the steps preemptively in anticipation of what I call a preventable staffing shortage – still preventable, enough hours in a day," Hochul said at a press conference in the Bronx. "I don't have to do this if people will get vaccinated, there's plenty of hours left in the day, but I also know I need to be prepared."
"The directive will give the governor emergency powers to hire National Guard officers with medical training, retired healthcare workers whose licenses may have lapsed, and staff from outside New York to offset those workers who lose their job due to refusing to get vaccinated," AM NY reported.
"We've sent out the alarm, we have a pool of individuals who want to help," Hochul said. "I would have much rather just been voluntary, but if I have to take steps to protect the people in terms of making sure I have replacements if necessary, I need to take those steps now and that executive order will do just that."
Hochul stated that foreign healthcare workers may be able to replace those who do not want their healthcare decisions to be respected.
"To all the healthcare providers, doctors and nurses in particular who are vaccinated, I say thank you. Because you are keeping true to your oath," she said. "To those who won't, we will be replacing people," she added.
"We are sending out a call statewide," she went on. "There are facilities, for example in New York City, that 98% of their staff are vaccinated, they don't have a worker shortage. We are working closely with these hospitals to find out where we can get other individuals to come in and supplement nursing homes and other facilities."
Hochul stated that foreign healthcare workers may be able to replace those who do not want their healthcare decisions to be respected.
"We're also reaching out to the Department of State to find out about visas for foreign workers, on a limited basis, to bring more nurses over here," she said.
Andrew Cuomo, the former governor in disgrace, issued the mandate for vaccinations to the state in August shortly before he resigned. New York's health care workers cannot opt-out of testing.
Governor Hochul is even weighing deploying the National Guard due to an expected healthcare worker shortage because of the vaccine mandate:

In a statement released on Saturday, the governor's office said Ms. Hochul was laying plans for an executive order to declare a state of emergency that would "allow qualified health care professionals licensed in other states or countries, recent graduates, retired and formerly practicing health care professionals to practice in New York State."

Other options, the statement said, included calling in medically trained National Guard members to deliver care and to work with the federal government to deploy Disaster Medical Assistance Teams, which are operated by the Department for Health and Human Services.
The Democratic governor would declare yet another "state of emergency" in response to the Covid pandemic. However, New York hospitalizations for Covid-positive patients are currently manageable.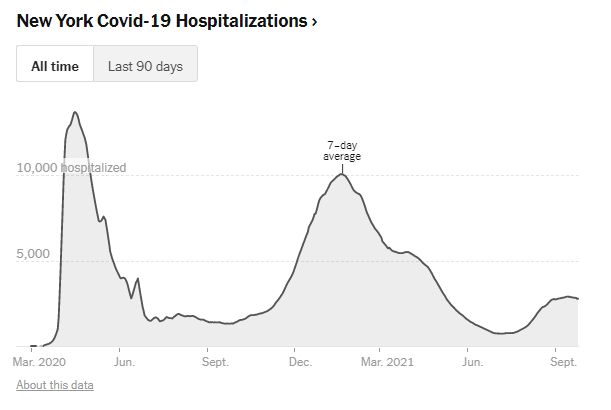 Accordingly, the "state of emergency" was entirely caused by New York's coercive policies and ineffectiveness and not the pandemic. Covid vaccines don't prevent transmission. Even the CDC Director acknowledged. Therefore, the only reason to get the vaccine is to reduce your risk of contracting the virus.
The U.S. Second District Court of Appeals granted an injunction temporarily blocking the implementation of New York City's vaccine mandate on Saturday. The mandate required that educators provide proof of Covid vaccination. Otherwise, they could face disciplinary action that could lead to termination.
CNN reported that the appeals court blocked the city's mandate for vaccines.
A federal appeals court has issued a temporary injunction against a Covid-19 vaccine mandate for New York City educators set to go into effect early next week, temporarily blocking enforcement while the case is sent to a three-judge circuit court panel for review.

The judge's ruling Friday means the mandate — which required all New York City Department of Education employees to provide proof of at least one dose of a Covid-19 vaccine by Monday — may not go into effect at its planned deadline, unless the case is reviewed before then.

The US Court of Appeals for the Second Circuit has issued a notice putting the motion on the calendar for Wednesday, according to a spokesperson for the New York City Law Department.
In a statement, the Department of Education addressed the court's injunction:
"We're confident our vaccine mandate will continue to be upheld once all the facts have been presented, because that is the level of protection our students and staff deserve. Our current vax-or-test mandate remains in effect and we're seeking speedy resolution by the Circuit Court next week. Over 82 percent of DOE employees have been vaccinated and we continue to urge all employees to get their shot by September 27."
Fox News noted that the vaccination levels among teachers is already high:
According to data from the Department of Education, 82% of some 150,000 DOE employees, including 88% of teachers and 95% of principals are vaccinated. The United Federation of Teachers has also stated that approximately 95% of their members are vaccinated.
Teacher's unions predict that there could be a resulting staff shortage due to the mandate, according to WSJ:
Unions representing New York City principals and teachers said, while most school workers have been vaccinated, the mandate could still leave the one million-student school system short of as many as 10,000 teachers, along with other staffers, such as cafeteria workers and school police officers.
Teachers in the city are looking for remote teaching options to accommodate those who don't want to show proof of vaccination.
The vaccine mandate was issued by Bill de Blasio, New York City's Mayor in August. This mandate adds to New York City's already complicated Covid policy regime. It includes "vaccine passports" that allow citizens to once again access services such as entertainment venues and restaurants. The test-out option is also eliminated by the mayor's vaccine mandate.
New York is now a fully-fledged tyrannical, desperate to create a public health crisis in order to advance an authoritarian agenda. It is difficult to see where this will end, except in revolt which seems to be the whole point.