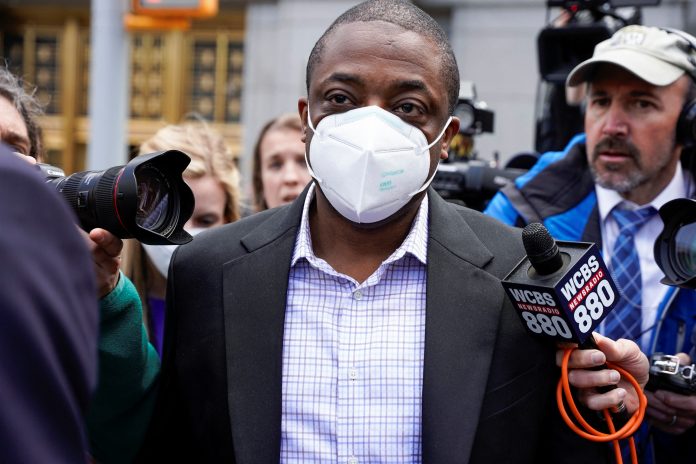 After being charged on allegations of bribery connected to campaign fraud, New York's lieutenant governor, a Democrat, resigned on Tuesday.
On Tuesday morning, Brian Benjamin surrendered to federal authorities on allegations of bribery, fraud, and document falsification.
Governor Kathy Hochul announced Benjamin's resignation, which will take effect immediately.
"It is evident to both of us that he cannot continue to serve as Lieutenant Governor while the legal process plays out," she added. "New Yorkers deserve complete trust in their government, and I will continue to fight hard for them every day."
Benjamin is accused of directing a $50,000 state grant to a Harlem real estate developer who reportedly contributed to the politician's campaign funds. According to prosecutors, the developer issued Benjamin two $10,000 personal cheques in the names of his family in order to avoid discovery by authorities.
"As charged, Brian Benjamin exploited his influence as a New York state senator to gain a state-funded grant in exchange for contributions to his own political campaigns," said Damian Williams, the United States Attorney for the Southern District of New York. Attorney for the United States District Court for the Southern District of New York. "Benjamin misused his position by doing so, effectively using public monies to pay his political efforts."
Benjamin pleaded not guilty to all five charges in front of a federal judge in New York City.
Hochul named him lieutenant governor in 2021, after the disgraced Andrew Cuomo resigned in August 2021, following several allegations of sexual harassment.
Hochul showed trust in her lieutenant governor when questioned about the inquiry into Benjamin a week ago.
Hochul remarked at the time, "I have complete faith in my lieutenant governor." "This is a separate inquiry involving other individuals, and he is completely cooperating."