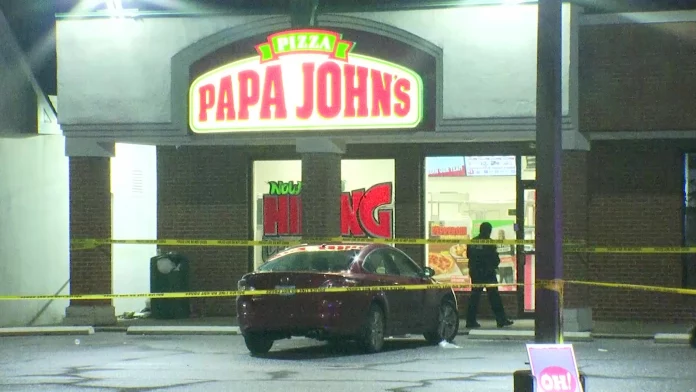 After being shot late Monday evening, the manager of a Papa John's pizza business in Columbus, Ohio, is in stable condition.
According to local television station WBNS, the incident occurred about 10:15 p.m., when a suspect, described as being between 20 and 30 years old and standing about 5-foot-5, entered the pizza shop and requested a job application from the shift manager.
When the suspect initially entered, he allegedly displayed a pistol, prompting an incident between the suspect and the manager behind the counter, according to police. The manager allegedly grabbed the suspect and a fight for the gun occurred, according to police.
According to authorities, the guy dropped to the floor with the revolver in his hand and shot the manager twice in the shoulder. The suspect, who was described by authorities as wearing an all-black hoodie, mask, pants, and shoes, stood up and rushed out of the premises without incident.
The person was brought to a local hospital, according to authorities. The actual circumstances surrounding the incident are still being investigated, according to police.
The event appears to be isolated, according to Charles Burris, vice president and operating partner for the Papa John's restaurant where the shooting occurred.
"We appreciate your understanding as we focus on the safety of our team members and guests while allowing law enforcement to fully investigate the details of this occurrence. At this time, we request that our employees are given the privacy and respect that the situation deserves," Charles Burris said in a statement.
When asked if personnel are taught to cope with such situations, a spokeswoman for Papa John's responded that team member safety is a top priority.
Another violent incident occurred in June 2021 at a Papa John's in Ohio, when two men allegedly ambushed store employees with crowbars and knives. One of the suspects was fatally shot by store staff, while the other managed to flee.
Anyone with information about the shooting on Monday is urged to call Columbus Police at (614) 645-4665 or Central Ohio Crime Stoppers at (614) 461-8477.