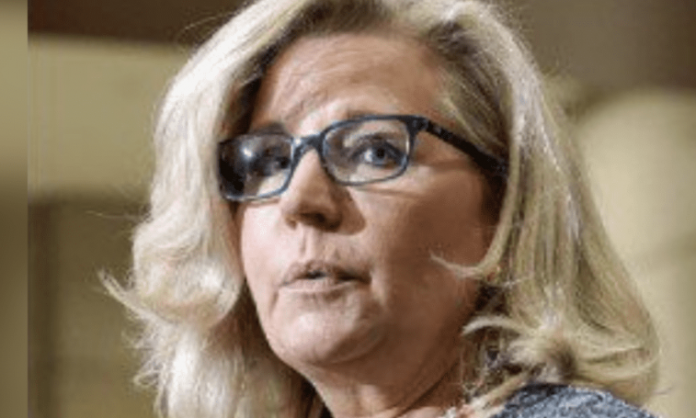 Former U.S. Representative Liz Cheney encountered a negative response from graduates, including boos and chair-turning, while giving the commencement address at Colorado College on Sunday. Although she reiterated her strong disapproval of former President Trump, Cheney chose not to address his potential reelection campaign in 2024 or her own political prospects.
During her speech, the Republican representative from Wyoming criticized her fellow House Republicans for not adequately challenging former President Trump's assertions of a "rigged" 2020 election. Cheney encouraged the graduating students to stay resolute in their pursuit of the truth. However, numerous audience members expressed their disagreement by booing and turning their chairs away from the stage. In addition, a graduate adorned their cap with a message that read, "Why listen to a racist, imperialist, transphobic, warmonger?? Your hate is loud."
Graduates boo and turn their chairs away from former U.S Rep. Liz Cheney as she delivers commencement address at liberal Colorado College – despite her blasting Trump's election-denying attorney pic.twitter.com/hRql4PTrUZ

— News News News (@NewsNew97351204) May 28, 2023
Graduates boo and turn their chairs away from Liz Cheney as she delivers commencement address at liberal Colorado College. One graduate's message on her cap reads: 'Why listen to a racist, imperialist, transphobic, war monger?? Your hate is loud' pic.twitter.com/IfAACgJYEP

— I Meme Therefore I Am 🇺🇸 (@ImMeme0) May 29, 2023
In her speech, Cheney revisited familiar topics that she has emphasized since departing from her position in January. These included her participation in the House committee investigating the attack on the U.S. Capitol on January 6, 2021, as well as her consistent assertions that Trump poses a danger to democracy.
During her address, the former representative made a reference to Cleta Mitchell, a former adviser to Trump, who purportedly expressed concerns about polling locations on college campuses and the ease of voting at a Republican National Committee retreat. Cheney stressed the significance of voting as a means to counter individuals who allegedly seek to undermine the fundamental principles of democracy and the rule of law.
Drawing from her own personal experience as a political science student at Colorado College, where she encountered a Bible verse inscription that read, "Ye shall know the truth and the truth shall make you free," Cheney discussed the pressures she faced in relation to the 2020 election and the events of January 6. She argued that she was confronted with a choice between dishonesty and relinquishing her position in the House leadership.
Cheney's service in Congress for three terms propelled her to the third-highest position in GOP leadership in the House. However, she was subsequently removed from that role after voting in favor of impeaching Trump.
Since leaving office, there has been speculation about Cheney potentially entering the 2024 GOP presidential primary. This speculation stems from her participation in speaking engagements and her public opposition to Trump. Although she did not reveal her plans during the commencement speech, Cheney has previously stated that she has not made a decision regarding a presidential run.
Cheney's outspoken criticisms of Trump have garnered attention from a national network of donors and Trump detractors who may support her in a potential White House campaign. A super PAC backing her candidacy has remained active and recently aired negative advertisements targeting Trump in New Hampshire.
After leaving her position and being succeeded by a Republican supported by Trump, Cheney was appointed as a professor at the University of Virginia. She has also written a memoir called "Oath and Honor," set to be published in November.
Cheney will continue to engage in speaking events, including an upcoming appearance at the Mackinac Policy Conference in Michigan on Thursday. It remains uncertain whether any attendees will display their disapproval by turning their backs on her during the event.